Most of The Outer Worlds' quests are signposted well, but there are a few that give you an objective and no real idea of where to search. The Frightened Engineer is one of those.
This quest is given to you by Thomas Reed, the amateur engineer in the deserter camp at the Botanical Lab. He needs an education in engineering fast, and three volumes of The Young Spacer's Guide to Mechanical Engineering are his only hope.
Two are easy to find and heavily signposted. The first is in the Emerald Vale Community Center, while the second can be found in the Edgewater Cannery.
The third engineering manual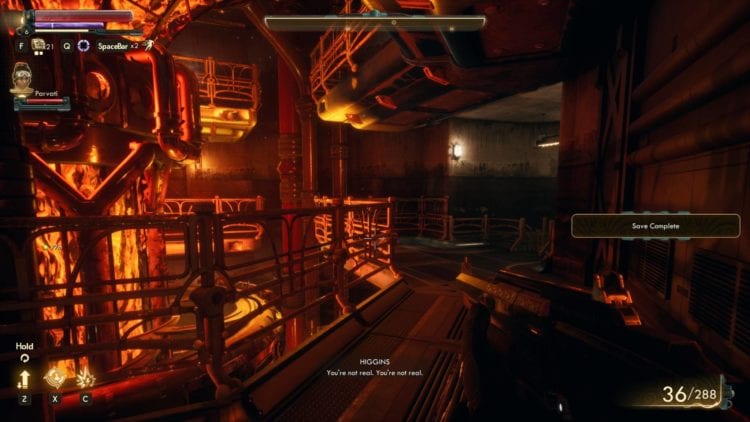 The third is the tricky one, though if you're exploring thoroughly and reading notes you'll find it as you progress through Emerald Vale. Specifically, it's in the Geothermal Plant – the very last quest location you'll visit before fixing your ship.
You want to head to the area known, ominously, as the pit. It's hard to miss: it's a glowing red chamber with about four sets of stairs and ladders leading downwards. You'll also hear someone called Higgins shouting when you wander in, which is a good indication that you're in the right area. You can see it in the screenshot above.
Anyway: as it turns out, Higgins has been reading the manual. It can be found down at the bottom of the pit fairly close to him. Pick it up, and you're free and clear to go get your reward from Thomas. Depending on the decision you're going to make in Comes Now the Power, you may want to go and hand the manuals in first. I'm not entirely sure if that quest will lock off this one, but better safe than sorry.
For more hints, tips, and guides for The Outer Worlds, check out our guide hub page.