As if Overcooked 2 wasn't fun enough, you can now double your gaming pleasure with a new fun DLC, "Surf 'N' Turf". Team 17 and the award-winning Indie Game Studio Ghost Town Games announced the new beach-themed DLC this week. You can add this via Steam for only $5.99 USD.
The Premise Of "Surf 'N' Turf"
Players will team up with the Onion King in Overcooked 2 on your usual culinary island adventure, cooking up new recipes, navigating new kitchens, and meeting some colorful characters. Surf 'n' Turf adds 12 brand new kitchens, from the swimming pool to the beach. But beware, as new kitchens mean new obstacles. Watch out for those tidal waves, players!
New Chefs
Surf 'n' Turf also adds three new themed chefs. Parrot Chef, Island Chef, and Boof sporting his fun shades return to the Overcooked series.
New Recipes And Other Kitchen Additions
No beach themed DLC is complete without some traditional food, right? Not to worry – Surf 'n' Turf is delivering there too!
Serve up yummy kebabs island style.
Create refreshing smoothies to quench your thirst.
New Equipment you will need to master such as the juicer, bellows, and a water pistol!
New Mechanics added to enhance gameplay. Players can now blast your dirty plates clean with the new trusty water pistol.  You can also now stoke the fires of your BBQ with the bellows, but watch out for burnt food.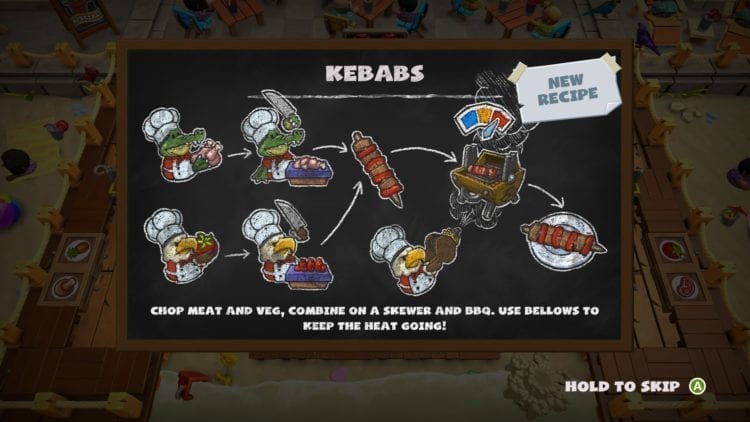 Even though the summer has come to end, this is a fun new addition that is sure to keep the game fresh and add a whole other level of gameplay for those who may have beat the game already. At a reasonable price point, it seems a smart add-on to the already jam-packed game.
You can check out our previous review on Overcooked 2 here. This popular franchise continues to reinvent cooking games and take them to the next level. Let us know if you plan to check out this cool refreshing DLC, and stay tuned for a review on "Surf 'N' Turf".