From Nerf Guns, Costumes to now LEGO, Overwatch continues to dominate both on screen and off.  Earlier in the year, a whole line of Overwatch themed LEGO sets was announced to be coming soon. This week it was teased through this cute little video below. Not too much is revealed but we did see the first Overwatch Character to get the LEGO makeover and it looks good! Up till now, fans have been making their own Overwatch LEGO creations and now they won't have to.
Video Details
The first character to get the LEGO treatment revealed in the short video is Tracer of course. The design looks pretty good and it makes one wonder if we could see an Overwatch LEGO game in the works? The other characters and mechs from the game are sure to look just as good. They also hinted at the following characters getting LEGO versions Genji, McCree, Mercy, Soldier 76, Reaper ( Zenyatta or Reinhardt) and Widowmaker. These will all look awesome once we see the final sets revealed of course. Unfortunately, we do not have a release date yet but it would be nice if these were released in time for the Holiday Season-sadly that is unlikely.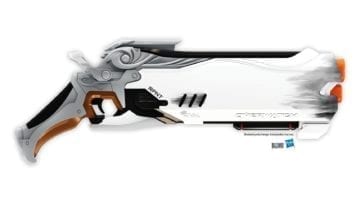 We are still awaiting the launch of their Nerf Weapon line that does include D.Va's Light Gun and Reaper's Hellfire shotgun. With Halloween just around the corner, these would be a fantastic prop to have. If you are looking to get your hands on some Overwatch merchandise ASAP, Hot Topic and other local stores have great selections as well as the official Overwatch online store. In-game we have the Halloween Terror Event starting up next week as well as tons of new skins for your favorite characters. Hopefully, in the coming months, we get more info about what is sure to be an amazing collaboration between LEGO and Blizzard.