Designing the best living quarters and ensuring everyone is taken care can be a daunting task. No, we are not talking about The Sims, but rather Prison Architect from Paradox Interactive and Double Eleven. As good as the base game already is, the expansions have been making it even better. In fact, the next expansion, Cleared for Transfer, will arrive on May 14. It will be free for all PC owners of the game.
More thinking required
If you were searching for more layers of complexity to managing your prison, this expansion is made for you. "Prison Architect players have been asking for more ways to manage inmates and customize prison security," said Steacy McIlwham, product manager for Prison Architect at Paradox Interactive.
"The folks at Double Eleven have done an incredible job at listening to the community and incorporating player feedback into the game since we partnered with them last year. With the Cleared for Transfer expansion, we wanted to take things further and introduce features that will let even the most veteran Wardens flex their management muscles."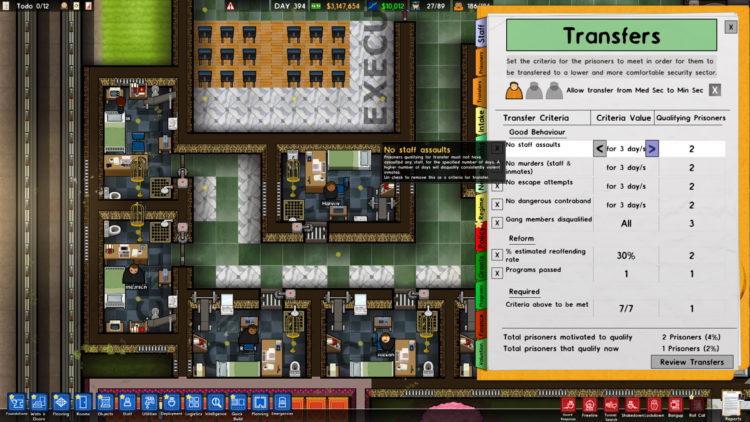 Flexibility in planning
The key features of the free Cleared for Transfer expansion will see some new additions. Prisoners can now be transferred between security sectors of your facility. What requirements that entails in entirely up to wardens.
Security sectors can also be assigned special privileges, incentivizing prisoners to be on their best behavior to obtain transfers. Inmates in high-security areas will be able to see the privileges, and envision a better future. Custom security sectors are now a thing, too. This allow prisoners from different security levels to mingle.
Room grading will come to other rooms as well, such as yards, classrooms, and the new gymnasium. To keep everything in order, Cleared for Transfer will see new actions and enhancements. Actions like shakedowns, tunnel searches, and lockdowns by security sector can now be initiated.
Prison Architect: Cleared for Transfer will be live on May 14. The base game is also 75% off over at Steam, going for $7.49 USD.