PUBG Corp has just unveiled its plan for April Fool's Day: a limited-time game mode called Fantasy Battle Royale. And it's very different. Fans (current and former) of the game might be a little annoyed that so much effort has been put into a week-long event. However, in the announcement, the PUBG team assures players at great length that it didn't use many resources to develop this mode.
PUBG is encouraging players to see the limited-time mode as a fun distraction to all the doom and gloom purveying the world right now. On top of that, PUBG Corp is using the April Fool's Day mode to test some new features it has been thinking about implementing into the regular game. That Paladin's shield for instance. It's not the first shield we've seen in a PUBG trailer, but it is the first we can use in the game.
PUBG presents Fantasy Battle Royale
PUBG fans will be able to play Fantasy Battle Royale from 12:00 a.m. PT on April Fool's Day until 11:59 p.m. PT on April 7. The game mode uses Erangel as the map, but it's now called Dragon Isle. Make sure to keep an eye out for some fantastical changes! The matches are in TPP (third-person) only, and you'll have to play in 4-player squads, with a maximum of 20 squads. Friendly fire is disabled to prevent Barbarians from going berserker-mode and slaying their whole team.
Before you drop, you'll need to select a class. There are four to choose from: Barbarian, Ranger, Wizard, or Paladin. Parties can have more than one of the same class, so go wild with your choices. Just remember, you will need to split the limited loot you find.
The only items that will spawn in PUBG's Fantasy Battle Royale world are crafting materials and bandages. So, no weapons, ammo, throwables, or equipment. The only vehicles available in the game mode are the Noble Steed motorcycle and the Dragon Wagon UAZ – both of which are slower and weaker than normal vehicles.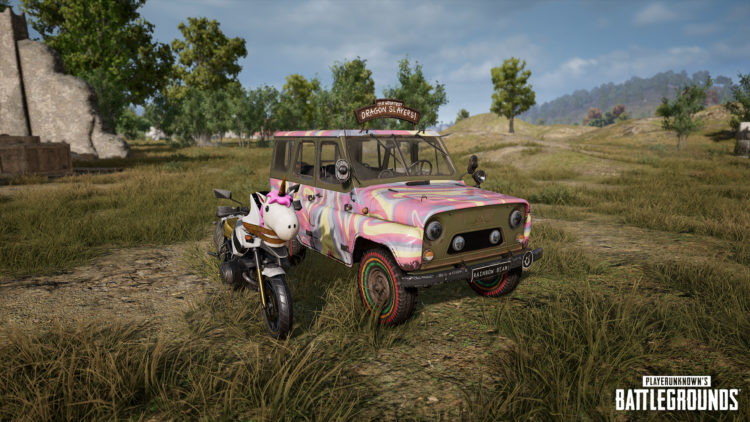 Fantasy Battle Royale classes
First up, the burly Barbarian. As you may have noticed in his stats above, he's a speed demon. Lots of HP makes him tanky, which you'll need if you want to run at people wielding crossbows or throwing fireballs. Each strike the Barbarian lands with his sword will increase his speed, making him excellent at running down inferior weaklings (or, more politely, opponents). Barbarians can also produce Mega Energy Drinks… somehow.
The Ranger is a long-ranged sniper with a 'Dragonslayer' crossbow that can fire multiple projectiles in a row. She can deal high damage at range but has very little HP. Thankfully, she makes no movement sounds. Rangers also have Flash Powder grenades that can blind enemies and decrease the damage allies receive.
Fantasy Battle Royale's Wizard is a heavy damage dealer capable of taking out multiple enemies at once. They have an arsenal of fiery attacks to call upon, from a wand that fires two consecutive blasts to a powerful fireball spell. There's even the ability to call meteor showers from the sky. To balance their high damage, Wizards are very squishy, with the lowest HP in the game mode.
Finally, the noble Paladin sporting a bucket on his head. He is the healer in PUBG's Fantasy Battle Royale. So, unless he's very strong, he's probably going to be the least picked. That said, the Paladin's Mendingstar can be used to damage and slow enemies or heal allies by hitting them. Repeatedly. As for his shield, it can block incoming attacks, but it also allows the Paladin to charge enemies and knock them away. They can also create First Aid Kits for allies and drop a healing bomb that creates a zone that heals allies and enemies alike.
Cosmetics, items, crafting, and all that jazz
Fantasy Battle Royale brings with it a horde of cosmetics for players to collect, all of which are earnable. PUBG Corp explicitly states in the announcement that people have more important things to spend their money on right now. The cosmetics appear to be the skins available to the various classes in the April Fool's Day game mode.
A unique feature coming to Fantasy Battle Royale is the ability to craft items throughout a match. PUBG Corp mentions it is interested to see how this works, as it's something it has been thinking about bringing to the regular game. Players will need to find specific crafting materials around the map to upgrade their gear.
In Fantasy Battle Royale, each class will need to find class-specific gems to upgrade their weapon and gear. So, you may not want to all pick the same class. Level 5 gear can only be acquired by picking up a unique crafting material found in care packages.