PUBG has just released patch notes for the battle royale's 5.2 update, which is already live on the test servers. The notes are long and not everything in them is particularly interesting. But there are a few welcome improvements and a Spike Trap, which could make for some highly entertaining gameplay.
Buffy the car wheel slayer
There had been mention of a Spike Trap coming to PUBG before, but we've had to wait for update 5.2 for it to be rolled out. The Spike Trap can be found on all the maps in the game and it will spawn at the same rate as throwables. When a vehicle drives over the Spike Trap, its wheels will be punctured, but the rest of the vehicle will be undamaged. Spike Traps are single-use, so once you've laid it you cannot move it. And when a vehicle drives over it, it will disappear.
The Spike Trap is an interesting addition to PUBG. It makes sense in the world and, on the surface, seems like an excellent way to make enemies vulnerable. But I think it's going to be used more for streamer and YouTube content creation that actual tactical gameplay.
No one drives on Sanhok. If they do, they usually end up being mowed down by gunfire. The other maps all have a lot of open space, it's hard to imagine a scenario where a driver wouldn't be able to avoid a trap. One good use of the trap might be to place them right underneath a parked car, so when someone hops in and attempts to drive away, their tires immediately get popped.
I think players will also find it hard to justify giving up inventory space for useful throwables or meds for the Spike Trap. To me, it falls into the same category as throwable melee weapons. Sounds fun, but once the novelty wears off its never going to be used.
Step into the lab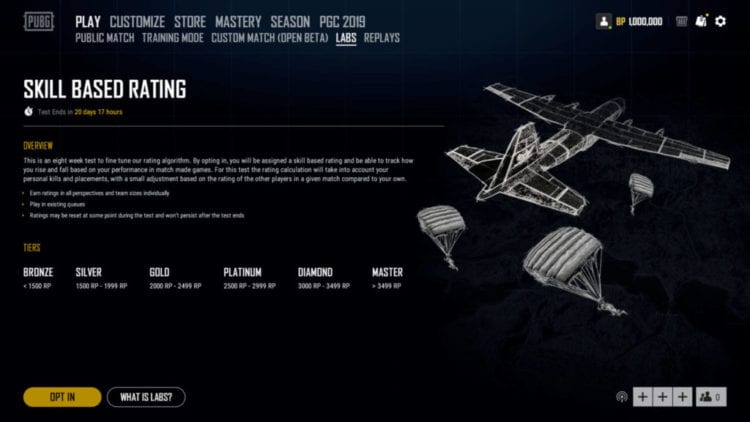 PUBG is in desperate need of new game modes and features. PUBG Mobile and PUBG Lite both have game modes that the original game still doesn't. So, the addition of PUBG Labs is an incredibly welcome one. The Labs is a space where PUBG Corp will work with the community to test new game modes, features, rule sets, and all the ideas that could make PUBG great again.
The first thing being tested in the Labs is a new Skill Based Rating system. Players will be able to participate in this test from November 26 to January 1.
I feel like the community gives a lot of feedback on the game already. But if Labs is what it takes to bring about change then I'm all for it. There is just once concern. The player base is already declining. Now you're splitting them up even more by getting some to play experimental modes instead of the actual game. There is a risk that PUBG is going to feel like a ghost town.
Connect the dots
The ping system in PUBG has slowly improved throughout the game's life. The latest tactical feature they have added, Way Points, will make planning on the fly a lot easier for players. You can now plan routes of attack, areas to patrol, speculate about enemy movement, and so much more. You can only place up to four points, but Way Points are going to make communicating in the chaos of battle royale so much easier.
With PUBG update 5.2, there are also improvements to Vikendi, including the pacing of the blue zone. There's finally an auto attachment feature in the game, so now when you pick up attachments they will equip to your weapon. And there's so much more. You can check out the full patch notes on PUBG's website.