Back in August, Bethesda announced during QuakeCon that Quake Champions would go free-to-play. The writings on the wall had more or less indicated to many that it would eventually go that route. However, things haven't changed in regards to support from both id Software and its publisher. The game will now see an October update, adding a new mode, titled Slipgate, and a new champion, Athena.
So Mode It Be
The Slipgate game mode boils down to an attack-and-defend gametype. There are also a number of "festival giveaways" to be awarded in the new game mode. Dubbed the Slipgate Festival, those taking part in the seasonal event will receive the Tentacle Weapon Shaders that will be applied to all starting weapons. The event will run from October 11 to October 31. Continuing to play through the event also allows for new skins available to all players. The Quake 4 Heavy Machine Gun skin, Ranger, Scalebearer Lore Skin, and even the champion Athena will be part of this community progression.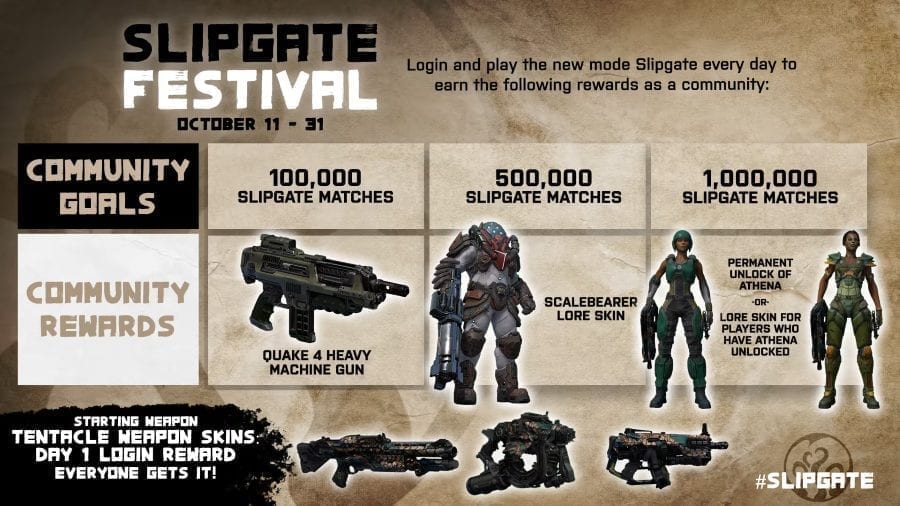 New arcade modes will also appear in the latest update. Swinger Party is a free-for-all deathmatch where every player is Athena. Every grappler shot is an instant kill. The other new addition is Lead the Way. This is a Scalebearer-only mode. And lastly, Mystery Champion and Unholy Trinity will come to the arcade team deathmatch rotation.
Slipgate: The Wormhole
You might be wondering, "What exactly is Slipgate?" It is essentially a "massive wormhole capable of summoning an ancient unnamed horror." Essentially, two teams are pitted against one another, having the offensive team attempting to close off the gate, while the defensive team of "Elder God cultists" attempt to open it. Whatever is inside has tentacles and is clamoring to slide through the open portal.
Other updates to the game include a post-game scoreboard and various tweaks for performance and pacing. Champions will also receive new stat balancing. The full notes for the update can be seen on the game's Steam page.
New Champion
As previously mentinoed, the update also brings with it a new character, Athena. If you have already purchased the Champions Pack and already own her with the new update, the Slipgate Festival will reward you with her Lore Skin in lieu of unlocking her as a character.
Some of Athena's starting stats include 125 health, 50 armor, and 320 speed. Her active ability is her grappling hook. The weapon can even allow her to pull herself towards enemies. She can also use the weapon in more of a tool sense and swing with it. Her passive ability, on the other hand, allows her to vault upwards with her Ramp Jump.
Quake Champions is currently available in Early Access and can be downloaded here. Although free-to-play, there are various upgrade packs available for purchase.