Rage 2 had a mostly positive reception when it launched in May. Our own review gave the impression of an above-average shooter with a lackluster story and a very bare open world. Even before the release, Bethesda Softworks had already published a roadmap for the game, promising a lot of content for 2019. Today, it has released a new roadmap as well as the second major update featuring more content. More importantly, the new update includes a New Game Plus mode, which will offer players a more thrilling replay experience.
The New Game Plus mode was a popular request from players, so it's the main feature of this update. When you wrap up the Project Dagger storyline and complete all of the Arks in the base game, you'll be able to load the New Game Plus mode. It will carry over all your weapons, abilities, upgrades, and vehicles. Bethesda also promises a little surprise when you revisit the Arks in your new playthrough: some skins for your weapons. The mode is also cumulative, allowing you to gain prestige badges with each new playthrough and an exponential increase in difficulty.
Rage 2 against the dying of the light
If you're not happy with an endlessly looping New Game Plus, there's also a new Ironman mode in the update. You know the drill: you die, you lose, and your save vanishes. You can still use the Defibrillator when you take a hit, though. And if you're even more of a masochist, you might also be interested in trying the Ultra Nightmare difficulty for that extra edge. There are also new cheat codes with the new update if you like to mess around with that.
The Dash Ragdoll cheat will make your player character become a ragdoll as you hit Dash into your enemies, and somehow you can kill them like that. There's also a Super Knockback cheat that pumps up your melee strikes so you can punch your enemies into the stratosphere. And if you want to make worlds collapse in a weird way, you can also use the BJ Blazkowicz Voice Pack to make your Rage 2 character speak as the ultimate Wolfenstein avatar himself.
Ragemap! There, I said it
The update also features new weapon skins and several improvements and bug fixes, as you can see in the details below. The roadmap also shows what you can expect if you just can't get enough of Rage 2. September will bring the release of the Rise of the Ghosts expansion, with a new story and missions, new world location, new enemy faction, and new weapon and ability. Two months later, a new, as of yet unnamed expansion will arrive with more of the same, except all new! And of course, you'll get the weekly wasteland challenges every month as well.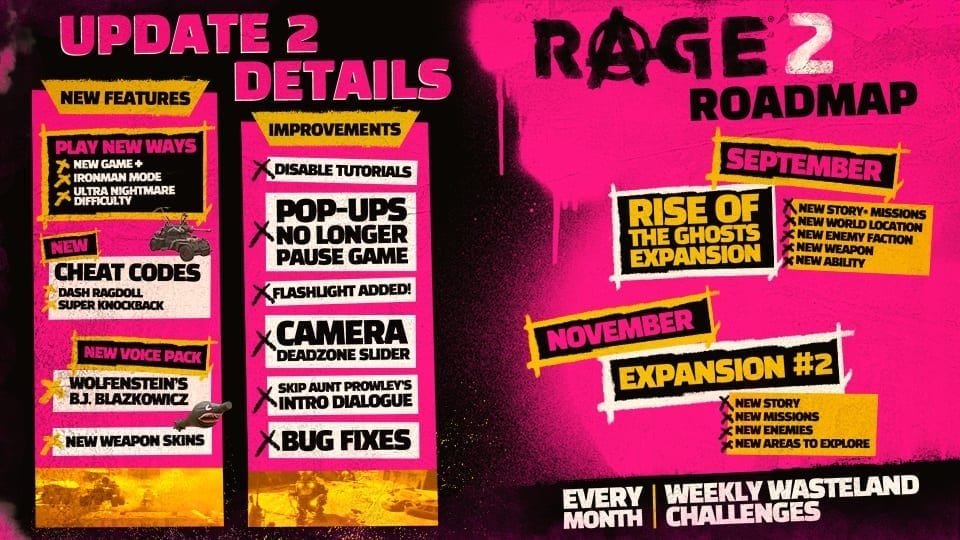 Even if you didn't like the game much, it's good to see a single-player first-person shooter getting so much attention post-launch. And whatever you could say about Bethesda, it's certainly living up to that #SavePlayer1 video back in 2017 when it championed single-player games.
Are you hyped for all this new and upcoming content for Rage 2? Drop your comments below!