Ubisoft is rolling out another great deal for its popular team-based shooter, Rainbow Six Siege. The game first released in December of 2015. One of the reasons it has stayed so massively popular since then is that Ubisoft has continually kept up with special offers, updates, and balance changes.
Free Login Bonus Until The New Year
Happy Holidays from the Rainbow Six Siege team! ☃️

🎁 Log into Rainbow Six from now until January 1st to receive a free Holiday Pack, containing a DLC Operator or 25,000 Renown if you have them all. 🎁 pic.twitter.com/8IOCOTCite

— Rainbow Six Siege (@Rainbow6Game) December 24, 2018
One new festive example of this is from the Siege official Twitter account. In the tweet, they let players know that until January 1, 2019, logging into Rainbow Six Siege will net you a free Holiday Pack. What is in this Holiday Pack? Why, a free DLC Operator of course!
Rainbow Six has had about three years of roaring popularity and about 12 "seasons" of DLC content. Since its release, a staggering amount of DLC packs have come out – actually, about four per year – featuring new Operators and maps. Also, there are tons of cosmetics, even esports-related ones. And the most recent release, Wind Bastion, added in two more operators. Kaid and Morocco, the new additions, are expanding the playable cast to 44 different operators.
Growing Number Of DLC Operators
Out of those 44 characters, 24 are DLC. So, when you login in to grab this free Operator, you actually have a shot of obtaining more than half the cast. And because of how Siege is set up, this is good for both new and experienced players. For example, if you've got 39 characters, opening the Holiday Pack is guaranteed to get you one of the ones you're missing. It's not like other games, where you can "unlock" the same skin/character over and over.
A Couple Of Bugs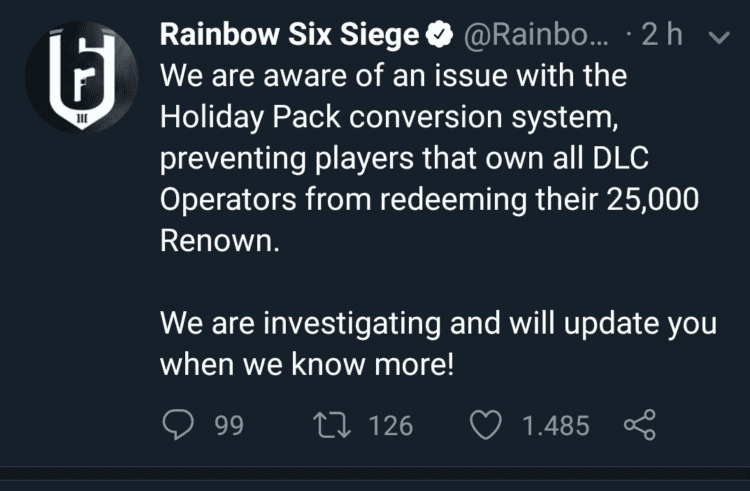 Also, if you're one of those, how do you say, 1337 Gamerz that has every Operator, then you're looking at a pile of 25,000 renown. Well, you would, but some people are having issues with that specific part of it.
Still, this is an opportune time to give Siege a shot if you haven't yet. Just logging in will give you a chance to play some of the more unique characters, after all.
Who would you guys like to unlock? Personally, I'd want Clash, just because her shock shield is so annoying. Let us know your pick in the comments below!