During the Rainbow Six Siege Community and Game Celebration, Ubisoft definitely had plenty up its sleeve regarding the beloved tactical shooter. After all, it is a new year, and that means a completely new future for the game. The studio's commitment to supporting and adding new content to Rainbow Six Siege has not wavered. That means Year 6 and beyond will bring even more awesomeness for the Rainbow Six Siege community. As expected, we can look forward to core gameplay changes, new tools, quality of life improvements, and a roadmap for Year 6 that will set the stage for things to come.
In Year 5, Rainbow Six Siege targeted core updates such as Match Replay, improvements like sight color customization, and the addition of six new Operators. The beleaguered Tachanka got a rework, and the game grew into something more. For Year 6, Rainbow Six Siege is going to be all about a more fair, tactical, and stable experience.
As part of the roadmap for Year 6, it kicks off with Operation Crimson Heist. The reveal for new attacker Flores has many eager to enjoy explosive fun. The Border map will get a rework as well. The second season for Year 6 of Rainbow Six Siege will include the addition of an Operator from the Nakoda Nations, with Favela also getting a rework.
Season 3 will see Croatia contribute new Operators, with three maps targeted for reworks. Lastly, the final Operator coming in Year 6 will be from Ireland. At that point, the Outback map will be put on the operating table. Operators will also become unlockable via the Battle Pass.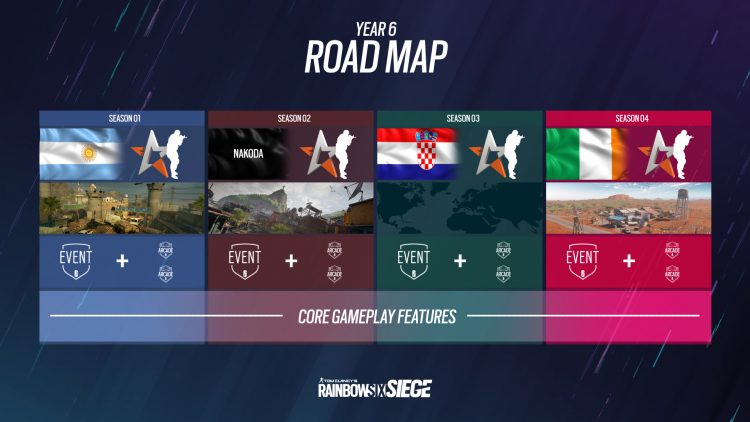 Core gameplay changes
Aside from the many Operators, gunplay remains the bread and butter for Rainbow Six Siege. The new year will bring a new secondary weapon in the form of the Gonne-6. This is a one-bullet secondary weapon that can destroy any bulletproof gadget and gives players an additional tactical option. It will be available as part of the Operation Crimson Heist test server for Glaz, Dokkaebi, Lion, Finka, Gridlock, Amaru, Iana, and Zero.
Players who have died will get to contribute further. Cameras and gadgets can still be controlled after death. This will allow teams to get more support throughout the match. This particular improvement is being added further down the line in Year 6 of Rainbow Six Siege.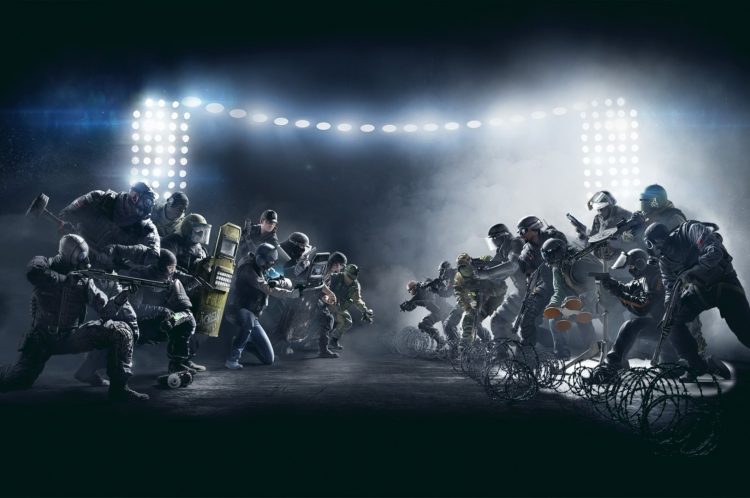 Ubisoft is also looking at balancing the battle between attackers and defenders. This means that attackers can now change their Operators and loadouts as many times as they want during the preparation phase. Your scouting has never been more important. Look out for this change later in the year.
Lastly, armor will now be switched to health, so you have a better idea of how much punishment you can take. This change is something that will come later though.
Behavior correction
The Reputation System was put in place during the past season, but was kept separate from players while the developers shadow tested it. The system will make its formal debut though in Rainbow Six Siege for Year 6. You will certainly want to avoid negative in-game behavior once the Reputation System goes into effect. Toxicity continues to be a subject that Ubisoft takes seriously.
Content creators will also get the option to control their anonymity when playing. Their name, region, and ping can be hidden. In addition, they will be able to hide everyone else in the match, perform a hidden matchmaking delay to avoid stream snipers, and hide their current clearance level and profile image. An initial version of the tool will be implemented on test servers.
Quality of life
Year 6 of Rainbow Six Siege will also see the continuation of work regarding the quality of life in the game. The team is still working hard to contain DDoS attacks, while matchmaking time and server stability are constantly being improved. For those worried about game size, Ubisoft is looking into that too.
For those interested in customizing their Operators, the option to adapt Elite skins to fully customized appearances is coming.
We also learned of a few new collaborations coming to Rainbow Six Siege in Year 6. Resident Evil and strangely, Rick and Morty, are involved. Former Ghostwire Tokyo Creative Director Ikumi Nakamura also lent her eye for design to create several of the upcoming skins.
All in all, it sounds like a good year lies ahead for Rainbow Six Siege in Year 6. As the global pandemic persists, the hope is that the developers can continue to do their good work without suffering more delays or intrusions. For fans, it is time to sit back and enjoy the content.