PUBG has gone through plenty of changes since its debut as the battle royale game to beat. Three years after launch, the competition has heated up, and PUBG has had to evolve in order to stay in the game. With update 7.2, one of the most requested modes has finally made its way into the battle royale. Together with balance changes and bug fixes, Ranked Mode is now available in PUBG.
Changes imminent
According to the full patch notes, PUBG update 7.2 will see plenty of changes and tweaks to gameplay for all versions of the game. In addition to Ranked Mode, one of the more important tweaks will be the buffing of assault rifles. The overt supremacy of the M4A1 in the game's meta will hopefully come to a close with these new buffs. The M4A1 will also have its long-distance damage decreased to prevent it from being the rifle for all situations.
Armor will also see some changes. Originally, vests provided both armor and expanded inventory space for players. Once destroyed, however, players would lose their extra space. Update 7.2 has now eliminated this unfortunate effect. Vests will no longer disappear upon destruction, allowing players to tap into the increased inventory.
Staking your claim
The star of the update is the new Ranked Mode. Fans have asked for this feature for a long time, and now that wish is granted. Competing against other players to climb the ranks, the mode will help determine who truly is the best of the best in PUBG.
"For Ranked Mode, the dev team took some inspiration from the highest level of competitive PUBG play, PUBG Esports. This includes settings, loot, and 64-player squad oriented play." Ranked Mode will replace the survival mode in the game.
Ranked Mode will also feel different from other game modes. Games will play out on random maps, which will have increased loot spawns. However, everything else is stripped away to make things more competitive. The blue zone will see its timing and speed increased as well to quicken the pace.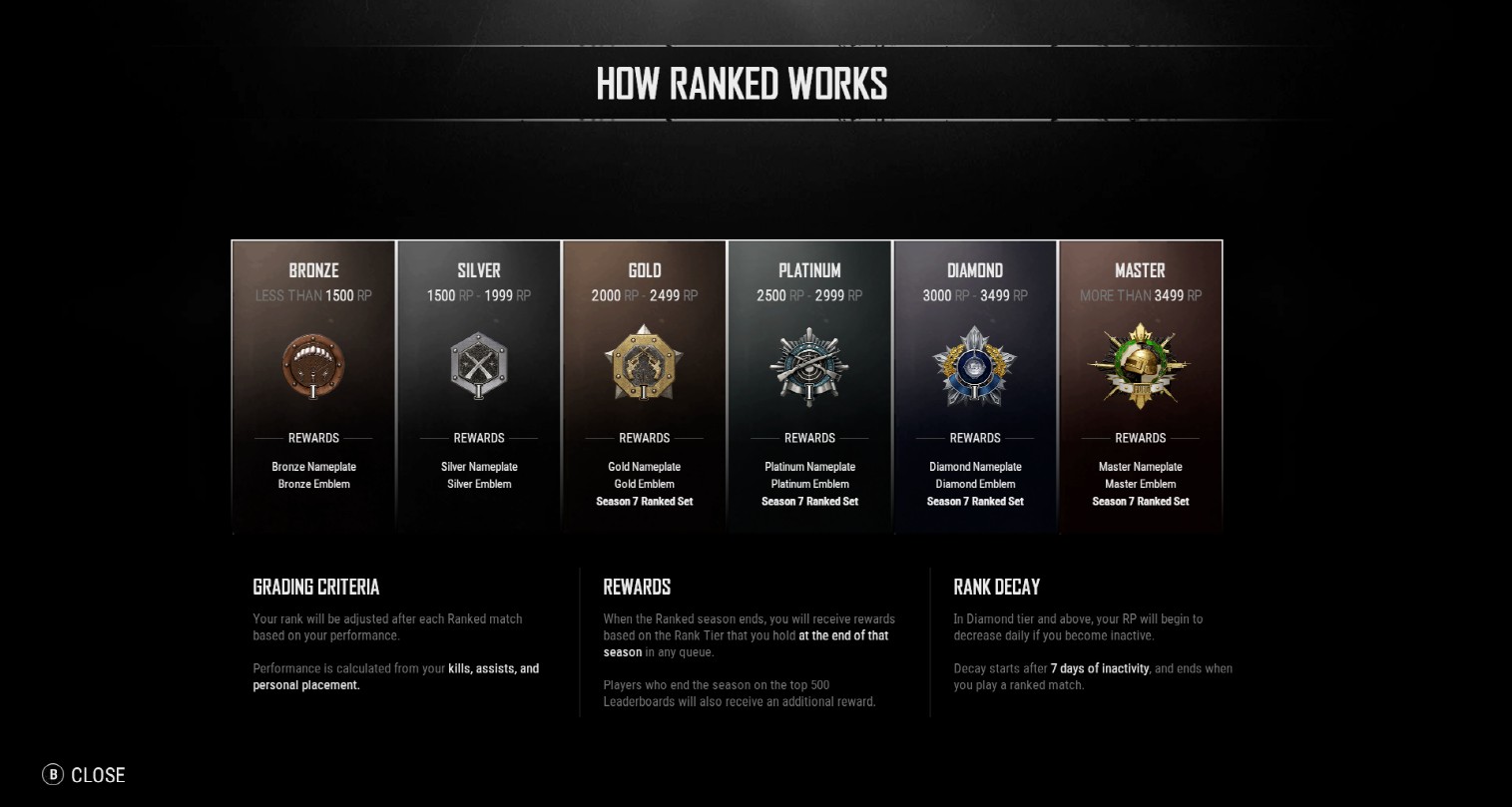 For players waiting to dive in, Ranked Mode will feature six total tiers. Starting with bronze and ending at master tier, ranks are determined by an RP system that will reset at the start of every season. In order to place, you must play five placement games first. A player's RP will be largely determined by kills, assists, and personal placement.