2020 is about three quarters done, but the sheer amount of digital events are simply overwhelming. QuakeCon at Home just concluded over the last weekend, but now we have more to prepare for. The latest addition to the list is Realms Deep 2020, courtesy of publisher and developers 3D Realms. They are the folks behind the likes of Duke Nukem and Wolfenstein 3D. The event is set to take place on Sunday, September 5 to 6, 2 PM ET to 7 PM ET via the 3D Realms Twitch channel. This will be accompanied by a Realms Deep Steam Sale running from September 3 to 7.
Realms Deep 2020 will feature plenty of special guests. The likes of John Romero, Tim Willits, and Cliff Bleszinski will make appearances. They will also be joined by American McGee, Chuck Jones, Jon St. John, and Stephan Weyte for some candid conversations.
There will also be a Child's Play charity drive. Those looking for Realms Deep 2020 merchandise can purchase exclusive items available during the show. All proceeds will be going directly to Child's Play.
Bring on the games
Of course, being a 3D Realms event, there will be games too. World premieres from 3D Realms and 1C Entertainment can be expected, including a brand new dark-fantasy RPG and several new games. Other studios like New Blood Interactive, NightDive Studios, Running with Scissors and many others will also be on hand to share their projects.
In total, there will be more than 40 games being showed off at Realms Deep 2020. The names might not be familiar, but that is what such marketing is for. Get up to speed on games like Core Decay, Hell Hunt, Hellbound, Hedon, Nightmare Reaper, Prodeus, The Adventures of Square, SCP: Blackout, Limitless Hunger, Warfork, Dread X Collection, Retchid, HROT, Fallen Angels, Hellscreen, Paradox Vector, Brutal Fate, and many more.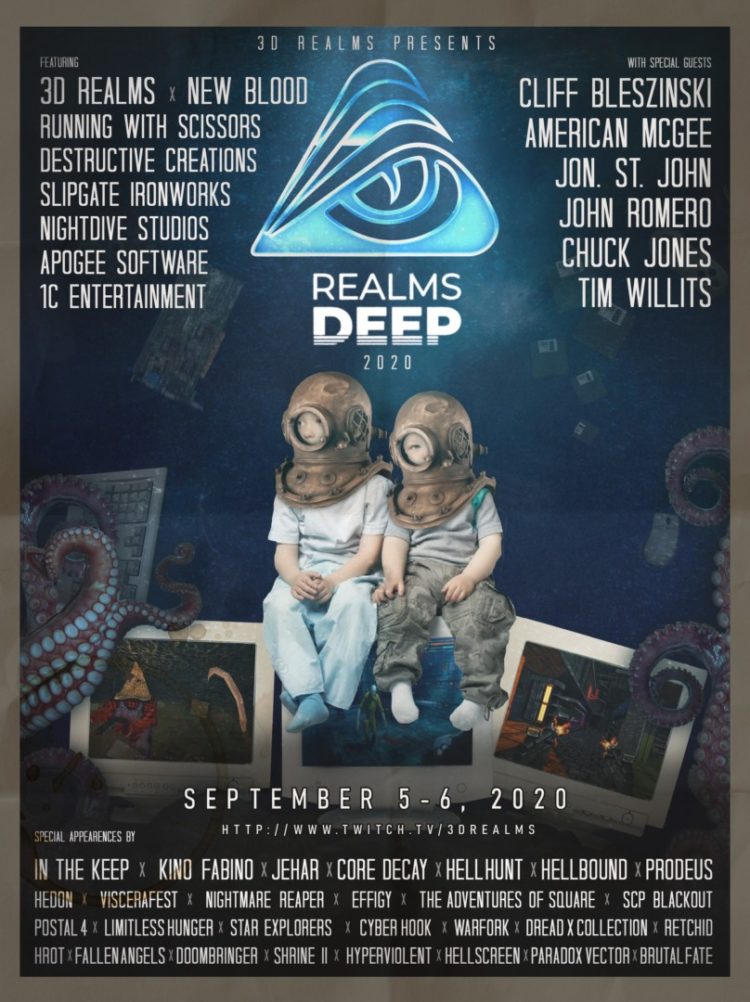 "Realms Deep 2020 gives us the chance to highlight what we're working on while showcasing all the badass projects our friends are cooking up," Frederik Schreiber, vice president at 3D Realms, said. "It's been a strange year, but we want to treat this as an awesome casual hangout with our fans and friends."
The rest of us can join in the fun this September 5. Catch all the action at Realms Deep 2020 via Twitch.