During today's Resident Evil Showcase stream we finally got a look at some Resident Evil Village gameplay. The first thing that is immediately noticeable from the footage shown is how great the game looks. Character models, environments, everything is packed with detail. Capcom continues to improve on the RE Engine every time we see it, and its logo on the games is practically a guarantee of visual quality.
We then see our returning protagonist, Ethan Winters from Resident Evil 7. Early in the video, he's almost immediately accosted by the daughters of Lady Dimitrescu and dragged off into the depths of the castle that shares her name. It is then implied that one of the Bakers, possibly Jack, might be a sibling of the Lady. This is just speculation at this point though, and she could be referring to another character. Producer Peter Fabiano then reveals that blocking will return from Resident Evil 7. Hopefully this time it is more useful than… well not at all. I honestly completely forgot Resident Evil 7 had that feature due to how useless it was.
A new wrinkle to the block mechanic though is push. Normally reserved for puzzles or context sensitive locations in the environment, you are now able to shove and even kick enemies away. This probably won't work against the larger monstrosities, but the ability to at least attempt to get enemies off you is welcome. Based on this snippet of Resident Evil Village gameplay, it seems that the game will be throwing a lot more enemies on screen at you than the last game.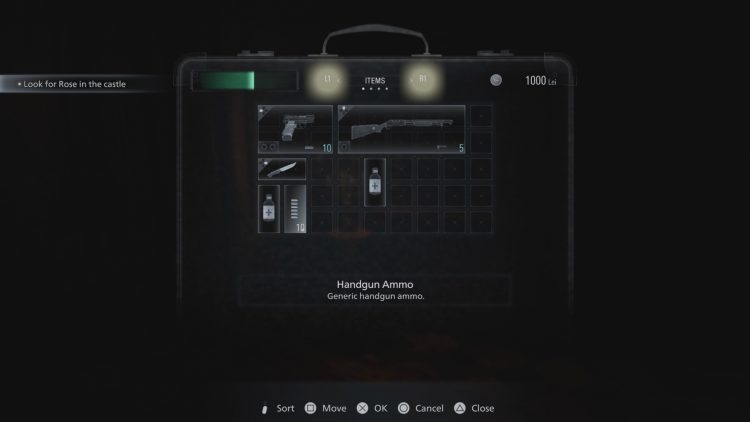 Samsonite! I was way off
We then get a peek at the inventory system for the game. It seems to combine Resident Evil 4's grid-based inventory with the crafting mechanics found in the remakes of Resident Evil 2 and 3. The merchant for the game makes a memorable appearance — and he certainly stands out. The Duke will be how you buy, sell, and upgrade your weapons throughout the game.
The Duke is an extremely corpulent man that operates out of the back of a horse-drawn carriage. He looks like a medieval version of The Baron from Dune. The Duke is even aware of Ethan before meeting him, clearly having heard of his previous exploits. Even though he is helping Ethan by giving him a better means to survive, his intentions may not be purely altruistic. Fabiano also said the merchant will appear in "odd places," again calling back to the Merchant from Resident Evil 4.
One of the most famous weapons in Resident Evil history, the knife, makes its return as well. It just wouldn't be a Resident Evil game without slashing open pots, boxes, and enemies with a knife. We see Ethan trashing the castle as he searches for items and ammo, as well as crafting materials. Fabiano then goes on to say that there will be extra objectives in the game. While Ethan is travelling down a dark corridor, he hears a squeaky, rattling sound. He then turns around to see a wooden rocking toy, again doubling down on the baby theme. This item can be found and destroyed throughout the game. Similar to the Mr. Raccoon and Mr. Charlie bobbleheads from the remakes of Resident Evil 2 and 3, respectively.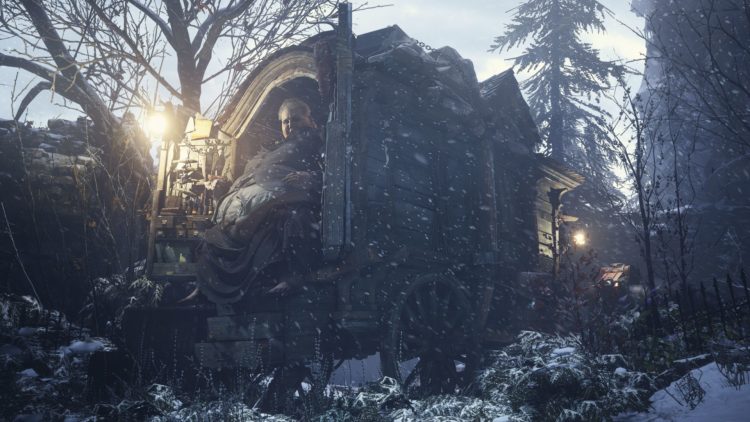 He's just big boned
Right now there is a demo of the game available exclusively for PlayStation 5 where players play as the character called the "Maiden." The demo features no combat or ways to fight back against enemies. Fabiano went on to say that a demo for PC will be available in the Spring. However, what he did not say was whether this would be the Maiden demo or a different one. The safe money is on the former, but you never know. Resident Evil Village releases on May 7 and you can pre order the game on Steam right now.
Check out the gameplay video in its entirety below: