This week in PC game releases (March 18 to 24), the shadows don't die, and the hips don't lie because Sekiro (Sekiro!) arrives soon. Sekiro: Shadows Die Twice will be joined by We. The Revolution as well.
As usual, to see all the releases for March, you can check out our listing here. As for all PC game release dates from 2019 onwards, you can find those here.
We. The Revolution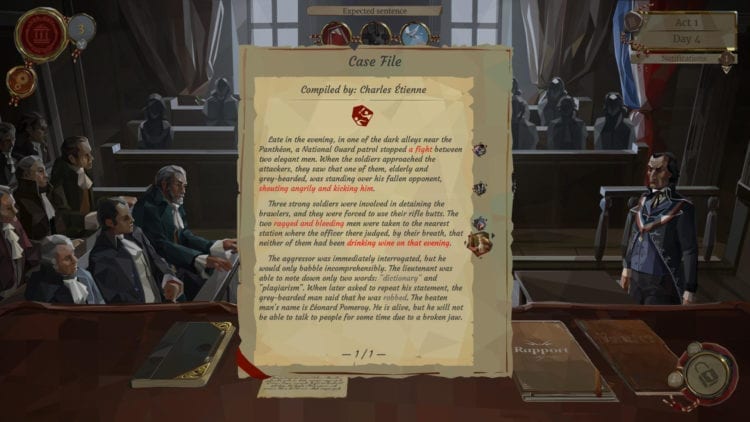 Release Date: March 21
Developer: Polyslash
Publisher: Klabater
We The Revolution will have you playing as a tribunal judge, with the ultimate power (and responsibility) to condemn people to imprisonment or even execution. Set during, you guessed it, the French Revolution, numerous factions and personalities are vying for control, and you'd also have to navigate your way through the political landscape.
If you've seen our preview, you'll know that there are around a hundred cases for you to adjudicate, with numerous court documents, evidences, testimonies, and even clues that can help or hinder the process. Along the way, you'll find out just what your family members think based on their alignments, as well as how political luminaries might feel about your decisions.
Moral ambiguity and freedom of choice are themes of the game as well. You're not necessarily forced to follow a strict code, and your decisions can be as arbitrary as you'd want them to be. Take care, though, while you send people to their deaths via guillotine, perhaps you might end up losing your head in the end as well.
Sekiro: Shadows Die Twice
Release Date: March 22
Developer: FromSoftware
Publisher: Activision
One of March 2019's biggest releases is Sekiro: Shadows Die Twice. Made by the fine folks at FromSoftware, Sekiro is the latest IP that doesn't necessarily ooze with the gothic horror from the Souls series at least at first glance. Instead, it takes you to damn near pictueresque locations in feudal Japan as you cut your way through hordes via fast-paced, fluid, and hard-hitting action.
In Sekiro, you're tasked with restoring your honor, fighting deadly samurai and other warriors. There are even more sinister denizens since the game mixes tradition and history with fantasy elements, including battles with monsters, ogres, and demonic giants. Since this is a FromSoftware game, you can expect extremely challenging boss fights that require you to time your dodges and counterattacks, as well as memorizing enemy patterns.
Apart from the action, you'll also be doing some platforming and a bit of stealth as you navigate through multiple levels. We honestly cannot wait for what's in store. You can expect our review and impressions once Sekiro: Shadows Die Twice releases later this week.
Next Week
Next week's PC game releases will see some exciting new additions. Generation Zero and Tropico 6 will be released. The Assassin's Creed III and Assassin's Creed: Liberation remasters will also be available. The Walking Dead: The Final Season will finally conclude with its last episode, and we'll finally see Clementine and the gang's fates. We'll see you then.
---
Release dates listed are for North America.