It has been a few good months since Serious Sam 4 brought its brand of over-the-top violence onto our screens. Killing hordes of monsters while trying to survive is always a good time. However, there is certainly room for some creative innovation as well. For players looking to add more to the game, there is some good news. In celebration of 20 years of Serious Sam, developer Croteam has unleashed a suite of free modding tools plus Steam Workshop support for Serious Sam 4.
The Serious Editor 2021 will allow players enjoy official modding support in Serious Sam 4. The full Steam Workshop integration means that a community is about to be born, centered around creating more ways to play the game. This should come as no surprise, as modding has always been a big part of the series.
In the past, fans created plenty of memorable mods and changes to the games to help keep the series going between sequels. For Serious Sam 4 project lead and CCO of Croteam, Davor Hunski, the excitement of what is to come is unmatched.
Tools in your arsenal
The new version of the Serious Editor comes with plenty of improvements and features. Modding in Serious Sam 4 offers the ability to use the brand new terrain editor, improved battle systems, vehicle support, and upgraded scripting tools. Powered by the Serious Engine, it will look and feel just like the real thing.
If you are a modder looking to create your own version of Serious Sam 4, your time has come. Not to mention there are various fixes and tweaks alongside the new update, this is a great way to reward fans.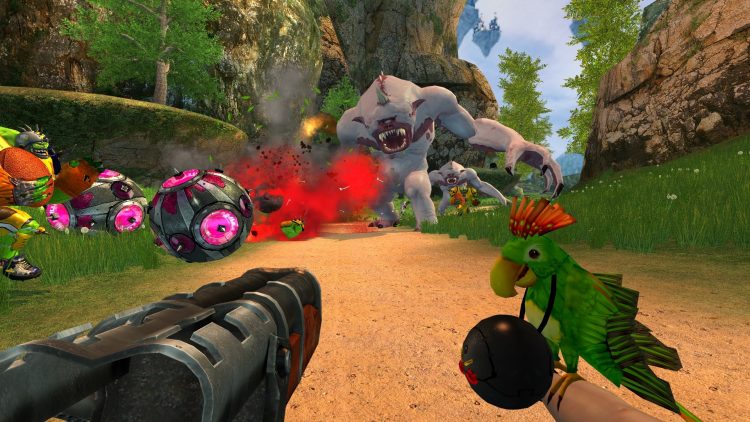 Yet, that is not all. Croteam has also released a new update for 2005's Serious Sam 2. Created in cooperation with Nathan Brown, one of the more prominent Serious Sam 2 modders, the new update provides a number of gameplay improvements. More impressively, it also adds 12 previously unreleased multiplayer maps.