Enjoying lining up your shots to eliminate numerous bad guys in Sniper Ghost Warrior Contracts? How about using different gadgets and traps while completing the game's dozens of challenges? Well, now you can add a bit of patriotism to the mix with the Fun with Flags DLC.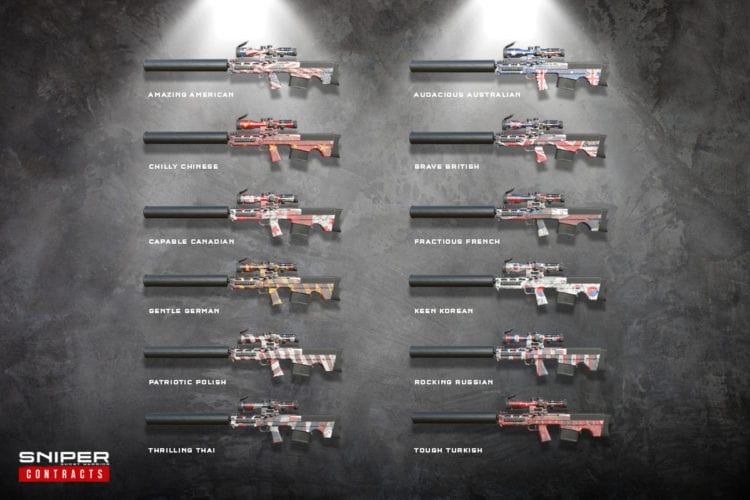 Fun With Flags in Sniper Ghost Warrior Contracts
When I reviewed Sniper Ghost Warrior Contracts back in November, I considered it as the most visually stunning game in the franchise. Prior iterations couldn't even compare. Large, expansive maps created a sniper's sandbox and you had numerous ways of tackling objectives. However, the game was also a little bit on the short side since there were only five levels. As such, you'll also eagerly clamor for more content drops in the future.
Now, the Fun with Flags DLC isn't really the content that you might be looking for to increase replayability in Sniper Ghost Warrior Contracts. But, it does add a bit of flavor and fluff.
The Fun with Flags DLC adds 12 new sniper rifle weapon skins that use the designs of various flags. The weapon skins come with names such as "Amazing American," "Patriotic Polish," and "Brave British." Other skin names, owing to the adjectives used, can sound a bit silly though in the case of "Chilly Chinese," "Gentle German," and "Fractious French." That also got me wondering why "Fantastic Filipino" was not included. Oh, well.
Unlike the previously released Summer's Nostalgia and Positive Vibes weapon skin packs, Fun with Flags won't be free. The DLC can be purchased on Steam for $3.99.
---
Of course, you're going to need the base game which is currently priced at $23.99 — a 20% discount — thanks to Steam's Lunar New Year Sale. For more information about Sniper Ghost Warrior Contracts, you can always check out our guides and features hub.