Sniper: Ghost Warrior Contracts is the latest tactical shooter from developer CI Games. Long-time players will already be familiar with the core gameplay, but they might be surprised by the environments. That's because Sniper: Ghost Warrior Contracts features five massive maps that'll become your personal sniping playground. These maps can be downright gorgeous thanks to the use of the CryEngine, easily trumping whatever the previous games had to offer. Sadly, the game doesn't seem to be fully optimized for 4K. Let's delve into more details in our technical review.
Note: We also have our official review of Sniper: Ghost Warrior Contracts. Likewise, you can head over to our guides and features hub.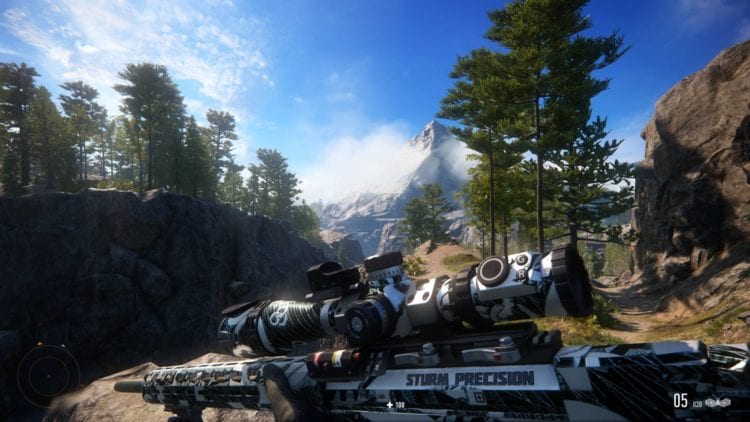 Sniper: Ghost Warrior Contracts – System requirements
Minimum:
Requires a 64-bit processor and operating system
OS: Windows 7
Processor: Intel Core i5 4460 / AMD FX 6350
Memory: 8 GB RAM
Graphics: NVIDIA GeForce GTX 760 or AMD Radeon HD 7870 (2GB VRAM)
DirectX: Version 10
Storage: 20 GB available space
Recommended:
Requires a 64-bit processor and operating system
OS: Windows 8.1 / 10
Processor: Intel Core i5 4690k / AMD Ryzen 5 1600X
Memory: 16 GB RAM
Graphics: NVIDIA GeForce GTX 970 or AMD Radeon RX 580x (4GB VRAM)
DirectX: Version 11
Storage: 20 GB available space
Author's:
OS: Windows 10 (64-bit)
Processor: Intel Core i7-7700 4.2 GHz
Memory: 16GB RAM
Graphics: Nvidia GeForce GTX 1070 Ti (8 GB)
DirectX: Version 12
Storage: Samsung SSD 860 EVO 500 GB
The system requirements are from Sniper: Ghost Warrior Contracts' Steam page. As you can see, I'm well above the recommended specs.
Graphics settings
As you can see above, Sniper: Ghost Warrior Contracts only has a handful of graphics options for you to make changes to. You can change the resolution, V-sync, gamma, field of view (FOV), and select presets from low to very high.
If we check out the advanced options, you'll see only a smattering of examples: object detail, particle effects, post-processing, shading, and the like. Although not seen in the image below, you can also toggle motion blur and chromatic aberration on or off.
Even though Contracts does support 4K/4K UHD resolution, you're going to be hard-pressed to get decent framerates. With my setup — along with 3840 x 2160 resolution and very high settings — I was only getting 30 FPS with occasional dips. It's also possible to experience sudden and jarring cuts or freezes (usually lasting a split second) when you hit a target at the end of the bullet cam sequence.
If I tone down the graphics preset, at best I'd get a measly bump at around 35-45 FPS at low settings. Compared to other shooters like Destiny 2 or The Division 2, Contracts falls short when it comes to 4K viability.
You've got two choices:
If you've got a 4K display and a rig that can handle it, then you can stick to 4K resolution. That's ideal for the extra fidelity and visual flair. But, be prepared to play the game as if it was a console title with a 30 FPS lock. Then again, it's a single-player game so it might not bother you as much.
You can also opt to downscale to 1080p. I also tested this by changing my resolution in-game as well as via the Nvidia Control Panel. I also adjusted my desktop's size so everything fits perfectly. By going down to 1080p, it's possible to play Contracts at 75-90 FPS.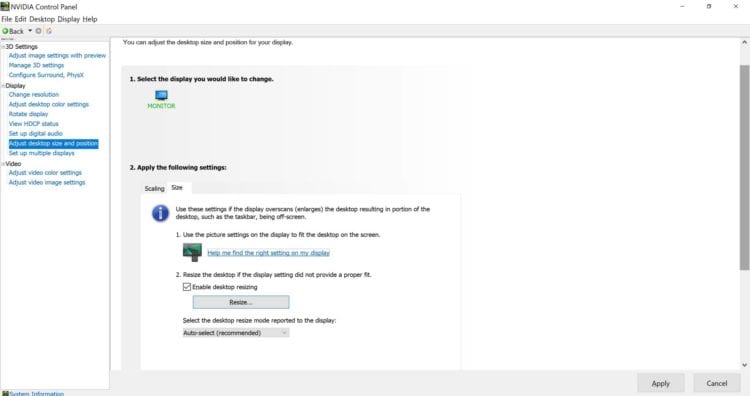 Graphics comparison
Next up, here are sets of screenshots taken in-game. I've noted which preset I was using at the time. Click on each image for a larger view.
These two are from the short tutorial mission:
This is a closer view of your character's handiwork:
This is from the game's first level:
While it's not too obvious from screenshots, you'll notice that models and textures will look a bit duller at low settings. Vegetation and terrain will also look a bit odd. At times, it might look like a screenshot from a PlayStation 3 title. Anyway, here's a similar screenshot when the game's downscaled to 1080p:
You might notice how the environment lacked a more striking detail that 4K resolution would provide. The difference here, though, is that you're getting higher and more stable framerates.
Gameplay and audio settings
There's really not a lot to talk about when it comes to Sniper: Ghost Warrior Contracts' gameplay settings. You've only got four options here: bullet camera, bullet camera frequency, and the toggle settings for sprinting and aiming. You can't even remove, alter, or scale the HUD, for crying out loud.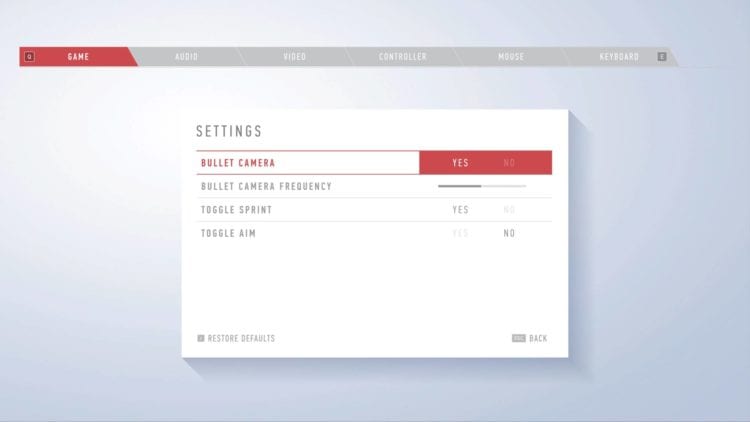 Speaking of sparse, here are the audio settings for Sniper: Ghost Warrior Contracts:
That's about it, really. Heck, the game doesn't even have accessibility options.
Control settings
Moving on, we've got control settings. Here's what you'll see via the controller panel: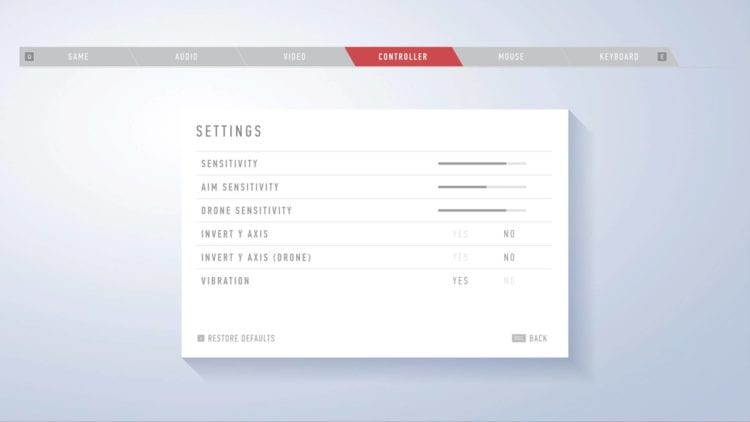 Take a long hard look at that because the mouse panel will look similar. The only thing that's missing is the option for vibration, obviously. Contracts doesn't let you change your gamepad's button layout or preset because it doesn't even have that screen.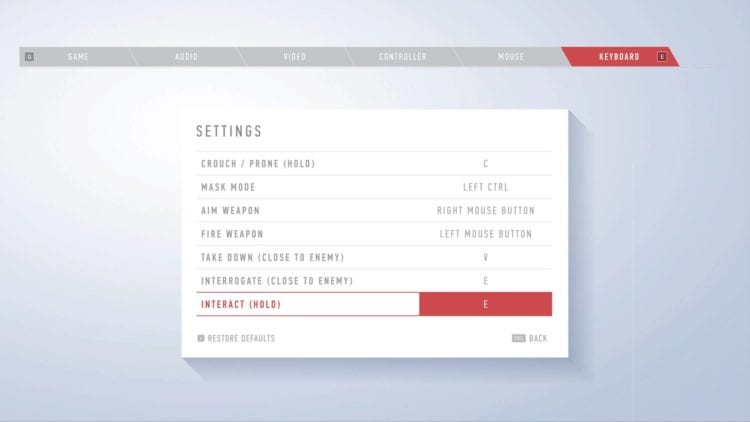 The above is the keybindings panel. You can remap your keybindings as you wish, save for one. An oddity I need to mention though is that the "use gadget/item" button is missing. It's the "F" key in case you're confused (I was at first), and it can't be remapped.
I feel that the next part also needs to be included in the technical review, and that's the journal page. The journal isn't necessarily a diary that your character keeps to detail his exploits. Instead, it just shows you the game's mechanics at a glance. This can only be accessed before starting a mission and not while in the middle of one. That's another odd omission given that it should be helpful for newer players.
Sniper: Ghost Warrior Contracts – At a technical glance
Sniper: Ghost Warrior Contracts is, without a doubt, a beautiful-looking game. As mentioned, its gigantic maps will leave you awestruck at times. One need only look at the previous title in the franchise — Sniper: Ghost Warrior 3 — to see the difference. Contracts blows its predecessor out of the water. It's especially surprising considering that this was developed by a small team of 35 people.
The main downside, however, is that Contracts doesn't take full advantage of the size and scope (pun intended) because it's not fully optimized for 4K setups — not unless you've got a beefier rig. The remaining options are a bit sparse, and some are even missing, which can be downright strange. But, these are only the game's available settings. We'll have to see how everything gels together in our official review.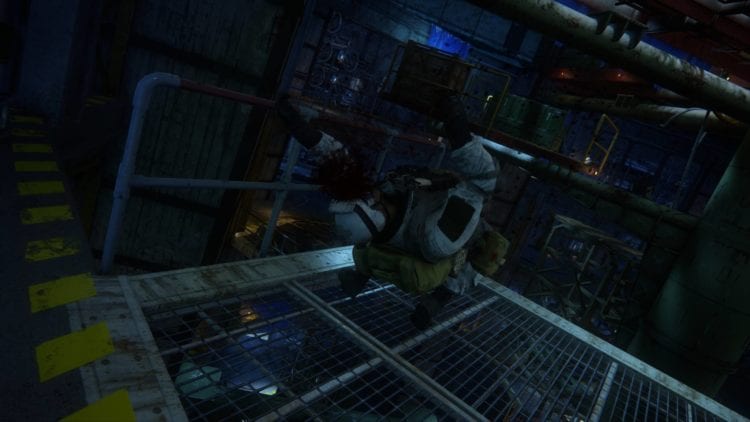 ---
Sniper: Ghost Warrior Contracts releases on November 22. You can find it on Steam. For more information, head over to our guides and features hub.