The Sims 4 Eco Lifestyle is the next expansion pack coming to the wildly popular person simulator. Eco Lifestyle will add a host of new eco-friendly items to play around with, including wall gardens, and a wide variety of trash. But with a launch date of June 5, there's still a while to go until your Sims can start living an incredibly sustainable existence. However, we've taken a look at TheSimsResource, where players of The Sims 4 have been uploading their creations for years now. We have found a few The Sims 4 eco-friendly mods to keep you busy, and on-trend, until this next expansion releases.
Eco Houses
This collection of homes provides you with a number of ways to get a quick start on an eco-friendly family, or entire neighborhood. You could pick one of these up for a fresh eco family, and even force everyone around them to start living a greener life.
Little Eco
Little Eco is a great house to take your first tentative steps towards an environmentally responsible lifestyle. It's a tiny, one-bedroom home, but it does have a small garden space where your Sims could grow some vegetables for their home cooking. The house comes fully furnished with everything a couple of Sims could ever need, and even live their lives partially off of the grid. However, if you want a home with the scope for children in the future, you may want to pick another, or expand this one later on.
Natural Micro Container
This is another smaller house, probably okay for two Sims, but ideal for a single Sim who may enjoy living by themselves. It has a hidden entrance near a container, and opens up behind it to reveal quite a beautiful little paradise. There's ample space indoors for everything a Sim needs, and a gorgeous outdoor pool with a grill for enjoying the natural world without having a significant impact on it.
Greenland
Greenland is a house build for an eco-friendly family. It has two bedrooms, and each window boasts a green view, with plants, trees, or simply some landscaped edging coming up to the side. Of course the house has a pool, but it might not be as eco-friendly as you want it to be — certainly compared to some of the other houses on this list. Still, this is a great starting home if you want to play with a family of Sims, not just one or two.
Oasis Eco House 2
If you want to get into en eco-friendly session with a big family, then this is the house for you. It has four bedrooms, a pool, and everything else that a Sim might need to keep them happy. It's a really well-put together house, and looks aesthetically pleasing while also maintaining a smaller impact on the environment. The glass and grass roof sections make it look like this is the dream home of some very creative, but environmentally conscious, Sims. This will let you live out all of your Eco Lifestyle dreams long before the expansion launches.
Introverted Eco Living Container
This house is probably one of the best eco-friendly mods out there for The Sims 4. It looks like a bunch of containers have been stacked together, and then people have started to live in each one. In truth, that's just the exterior. Inside, this is a luxury house, made to look as though it has been put together from scrapped shipping containers. The industrial look is maintained throughout every room. It's a great place to start an eco session in The Sims 4, or you could just plonk the neighborhood weirdos in there to see how they cope without anything to bring their mood up.
Camper's Dream
This house isn't exactly eco-friendly, but it does have a certain look to it that makes it appear to lean that way. You can tell that the people who built the home don't really care all that much about the environment because they have a sky pool, like the one from the movie Oblivion. However, the home is situated near to what looks like a disused railway bridge, making it feel like more of a project from Grand Designs. You could imagine that your Sims have purchased a plot of land next to this bridge, and made the most of the space available to them.
Camper's Dream was designed to look as though it used elements of the environment. Which means there was very little impact from diggers and similar vehicles. The description of this lot also mentions an underwater greenhouse, which sounds fantastic for both looking at, and using to grow your own food.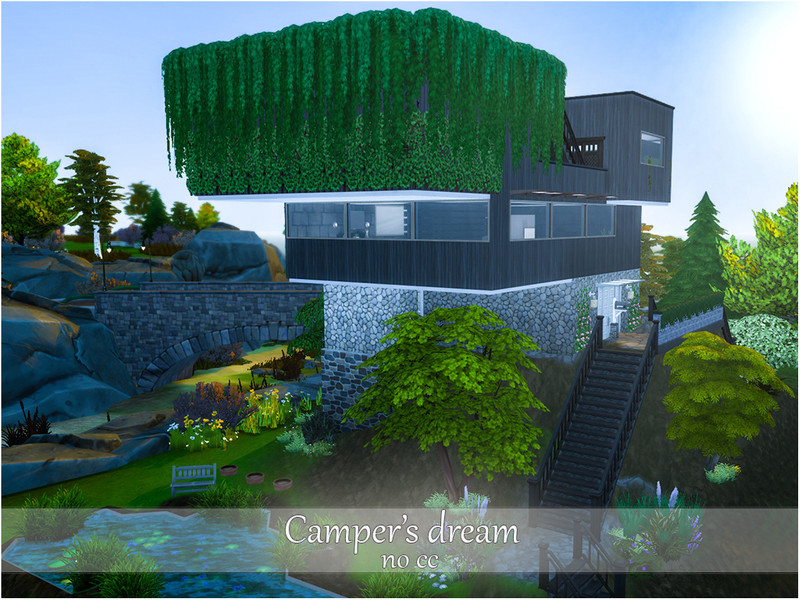 Greener Elements
You might just want to use the elements available to you in The Sims 4 to make the most environmentally friendly house that you can, which is perfectly fine. If that's something that you'd prefer to do, we still have a couple of items that might be of interest to you.
Green ECO Flooring
This is exactly what it sounds like. You can use Green ECO Flooring as actual flooring, letting you create a home that appears to have grass running throughout — or you can use it on your roof. This would allow you to create a roof garden without the need for any more complicated mods. All you need to do is choose the right tile and away you go.
Eco Kitchen Collection
Eco Kitchen is a new brand of kitchen items created for The Sims 4. They all look just like the kind of household items you'd expect to see in a high-end eco-friendly house in the real world. The bins are made from stainless steel, the cooker and dishwasher are energy-efficient, the stove hoods are sleek and out of the way. Even the sinks are swish without being built from expensive and hard to obtain materials.
If you want your house to have an eco-friendly kitchen, but you want to build it yourself, then this collection of items is definitely the way to go. Your Sims won't be able to stop standing and marveling at their amazing new appliances.
Eco Cafe
Even if you've already packed out the neighborhood with eco-friendly homes, you won't have an eco cafe. But that's what this mod gives you. So many businesses these days just throw their rubbish away, or use plastics that can't be recycled. Well now you can open and run, or just visit, an eco-friendly cafe whenever you fancy it. The place comes fully furnished, and serves coffee, tea, snacks, and even has a space for Sims to play chess. This cafe is genuinely a dream for any eco warriors, and the setup is so realistic that I had to double check it wasn't based on one near where I live.
NEIDEN Paper Coffee Cup with Layers
If you're starting a local eco cafe (such as with the mod above), then this mod goes hand in hand. Sims, much like humans, drink coffee all the time, and it's a nightmare when the cups aren't reusable or recyclable. Well, now that isn't an issue at all. These coffee cups are made from bamboo, which is not only ocean-friendly, it's biodegradable, and eco-friendly.
SimmieV Eco Clean Up Gear
There is trash in every neighborhood that needs to be cleaned up, and there's some rubbish on the sidewalks or in the bins too. While there are already outfits for cleaners and refuse workers, and most other jobs, you could spice them up with these new eco-friendly outfits. These are inspired by those who take part in community-wide projects, whether it's to clean up a local park, completely renovate someone's garden, or just go around and make sure that your town looks good.
BAUBLE & Bandera Beauty Supplies
This mod might feel a bit more random, but it's very much on theme here. This mod adds in a set of 21 creations, all of which are beauty products that can be used by Sims in the game. Every single one of these products is Paraben free, GMO free, and cruelty free. They're made from completely organic materials, and are 100% eco-friendly. This is a really simple way to enhance the eco-friendly living of your Sims without having a massive impact on their lives by moving them out.
There you have it, a way to live an eco-friendly lifestyle without the upcoming expansion. Hopefully you'll find these mods useful for creating a world that has a smaller impact on the wider world. The Sims 4 Eco Lifestyle will be available June 5.