There is no doubting that the gaming industry has benefited in several ways due to the conditions of 2020. More consumers are playing games and sales have seen improvements on the different platforms. That trend is set to continue next week thanks to the Steam Digital Tabletop Fest. If you just so happen to love video games, but as also those physical tabletop games that require friends and strangers to get together for, you are in luck.
The Steam Digital Tabletop Fest will last for five days, comprising of different segments. You can expect interviews, panels, live play sessions, and of course, streaming. It will illustrate just how far we have advanced when it comes to melding physical and digital games. It has been a long while since we last saw how Dungeons & Dragons played its part in many early roleplaying games, and in 2020, the evolution continues.
Jam-packed with content
The event will be more than just a cursory look at the scene. As part of the Steam Digital Tabletop Fest, there will be some key sections that will definitely excite the right audiences. There are main events such as an interview with Doom designer Sandy Petersen, who just so happens to have also designed several board games. You can enjoy a livestream with Elizabeth Hargrave, the designer for the physical edition of Wingspan. There are also play sessions to look forward to. Get together with developer League of Geeks for an Armello play session, or jump into Vermintide 2 with Warhammer Fantasy Roleplay designer Graeme Davis and members of Fatshark.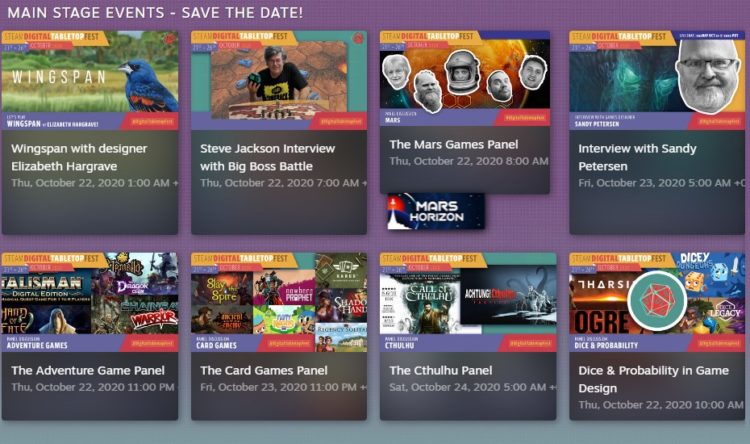 If you are excited to experience it, head over to Steam right now. There you will be able to see the full schedule of the Steam Digital Tabletop Fest. Reminders can also be set so you don't miss out on anything exciting. A concurrent sale will also go on with plenty of deals and demos. Get your wallets and hard drives ready.