The Steam Summer Sale 2019 is in full swing. There's also a Grand Prix event which can be quite confusing, and somewhat unnecessary to boot. Still, with thousands of PC games to choose from, it might be time to open up the wallet once more. I'll be listing the best deals I've obtained during the Steam Summer Sale for just around $50. That's thanks to Steam's regional pricing.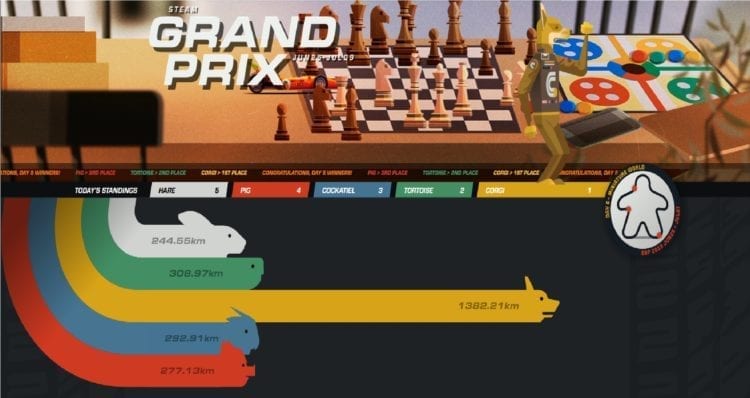 Steam Summer Sale 2019: Grand Prix Event
First, let's talk about the Grand Prix Event. It's probably one of the oddest and most confusing tie-in events that Valve has created for a Steam sale. First, you're going to have to pick a team. Then, you'll be given "quests" such as playing a certain game or unlocking an achievement. You earn points that'll boost your team's standing during the "Grand Prix race." You can also earn point boosts by buying games during the Steam Summer Sale 2019. At the end of each day, random users who are part of the winning team will get a free game from their wishlist.
The problem? There's almost no point in partaking in the quests themselves or joining a team early. More often than not, there will be a clear-cut winner prior to the end of the day. (At the moment, it's Team Corgi.)
Since winners are determined at random, you're competing against millions of other Steam users out there. It's highly unlikely that you'll end up winning even though you could be the one who provided the most points for your team. But, hey, in case lady luck might end up on your side, it's best that you have highly sought-after game on your wishlist (ie. Cyberpunk 2077, Sekiro: Shadows Die Twice, Total War: Three Kingdoms, and others).
Steam Summer Sale 2019: Great Deals
If you ignore the above and just focus on the discounted games, then you're in for a treat. Steam sales are about as straightforward as it gets given the storefront's extensive catalog. Numerous franchises and AAA games are up for grabs.
The Borderlands franchise has some games on sale for up to 97 percent off. The Witcher III: Wild Hunt is 70 percent off. Dark Souls III is 75 percent off whereas Monster Hunter World's price has been halved. For old school fans, Neverwinter Nights: Enhanced Edition has a bundle that's 80 percent off which already includes every DLC in the game. In any case, you can take your pick from the featured franchises or depending on their genres.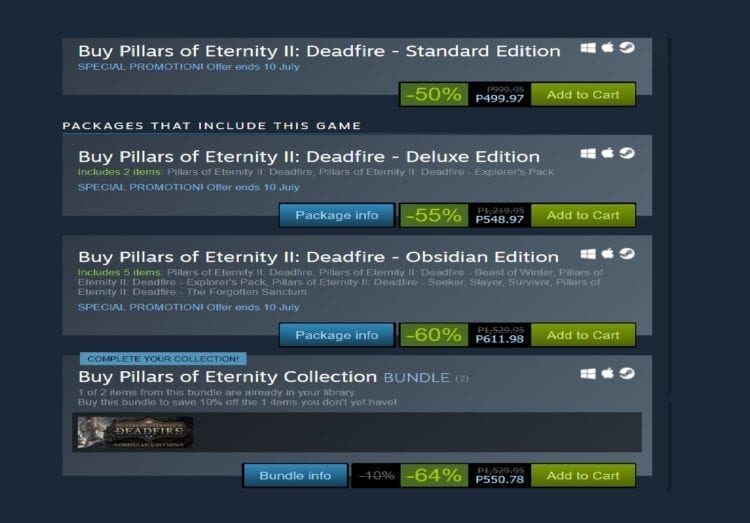 My Final Haul
I already have around 1,200 games in my Steam account and I wasn't really looking to add dozens of games to my backlog. Still, it's the Summer Sale — probably the best time to splurge a bit. I promised myself that I would spend around $50 only. Since I'm from the Philippines, regional pricing kicked in and many games were extremely cheap.
I've heard nothing but praise for games such as Dead Cells, Salt & Sanctuary, Into the Breach, Slay the Spire, and Darkest Dungeon and so I grabbed them all. Frostpunk was always in my radar and so into the cart it went. The downside was that the Frostpunk bundle (along with This War of Mine and its DLC) didn't give me an additional discount even though I already owned the content.
I've also been meaning to get some Endless Space 2 DLC which I don't own yet. Lastly, I felt that it was time to buy Pillars of Eternity II: Deadfire. The Obsidian Edition was bundled as part of a collection, one which saved me a buck or two since I already owned the first game.
My final haul set me back 2,557.26 Philippine pesos. That's $50.02. Not bad at all. Thanks, Valve!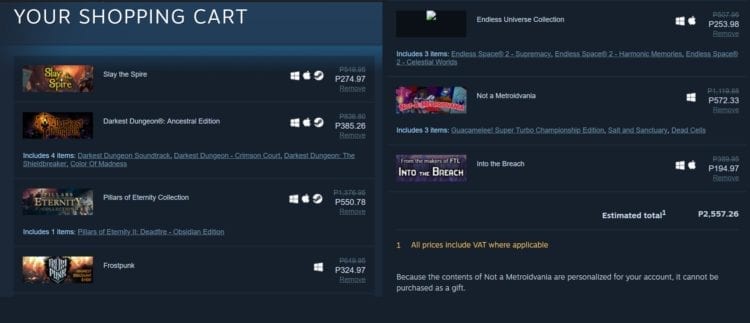 ---
The Steam Summer Sale 2019 and all the fantastic deals will last until July 9, 2019.