I love how more and more Japanese games that stuck to consoles for years are popping up on PC. I certainly wasn't expecting to see Story of Seasons: Friends of Mineral Town get announced for release on Steam, but it makes a certain kind of sense. With how insanely popular Stardew Valley is, it's easy to see that there's very much a market on PC for the beloved series of farming sims that started it all. I was able to get my hands on the game ahead of its July 14 release to get a sneak peek at what it offers.
Down on the farm
If you've never played a game in the series, your character comes to a small town where a relative has left you their farm. It's your job to bring the place back to working condition by planting crops and raising livestock. Along the way, you'll meet the townsfolk and perhaps even start a family. Story of Seasons: Friends of Mineral Town is a remake of a Game Boy Advance game, although the series was called Harvest Moon in the West at that time. As that is one of the series's most beloved games, it's been remade in full 3D.
When the game starts, you're presented with a choice of four avatars to choose from. Among these is the series protagonist who looks very much as he always has, with his blue cap and overalls. The others are a generic, yet more modern-looking guy and two women. In a deviation from the original, you can now change into different outfits by approaching the mirror in your house. Additionally, you can save anywhere you want from the menu, without having to use the journal by your bed.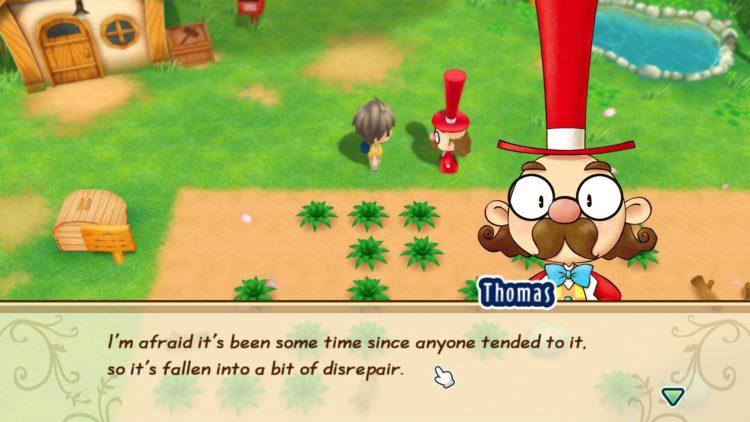 The game's visuals are simple but very nice to look at. The gameplay is just as relaxing and entertaining as it's ever been. I've played the first half of Spring so far and have planted a fair amount of cucumber seeds, as they can be harvested multiple times. Plus, I've upgraded my watering can, hoe, and fishing rod. I was kind of expecting the fishing to get a bit more complicated in this remake, but Story of Seasons: Friends of Mineral Town keeps it to just pressing a button when an exclamation point shows up. There are a fair amount of modern updates that make the game more comparable to recent entries in the series, however.
I am a camera, a camera am I
One thing I find worth mentioning is that, while you can slightly adjust Story of Seasons: Friends of Mineral Town's 3D camera, it's still very much stuck above you just as it is in most previous entries. You can use up and down on the control pad to slightly move it a little, but there isn't anything approximating full 3D camera control. I wasn't expecting there to be, mind you, but I was still hoping a bit.
At any rate, fans only have a few weeks to wait to play Story of Seasons: Friends of Mineral Town, and this PC port won't let them down. I'm already having a low-key, colorful experience and am enjoying my time back in Mineral Town. We'll have a full review up before the game launches, but for now, I've got some fishing to do.