Games Done Quick's week-long live stream kicks off again this Sunday with Summer Games Done Quick 2019 (SGDQ). If you are unfamiliar with the event, it brings some of the best speedrunning players to one hotel ballroom and tasks them with beating games as fast as possible. Games that folks can spend weeks, or even months, with are beaten in mere minutes. I have always enjoyed watching the Pokémon games completed in a few hours, or watching Skyrim or Oblivion finished in under 45 minutes, and SGDQ 2019 looks to have quite a bit worth checking out.
There are a ton of runs to look forward to this year for SGDQ. You can view the whole schedule to find the ones you want to watch. Here are some of the standouts from next week's event. All the times given are CDT, and they are only approximations, because games frequently run short or donation incentives are met that change the schedule:
Portal 2 – June 23 at 1:10 p.m.
Devil May Cry – June 23 at 9:14 p.m.
Castlevania – June 24 at 11:28 a.m.
Prey – June 24 at 2:32 p.m.
Metroid Prime – June 24 at 10:10 p.m.
Dark Souls II – June 26 at 8:48 p.m.
Octopath Traveler – June 28 at 1:04 p.m.
The Legend of Zelda: Breath of the Wild – June 28 at 10:49 p.m.
The Elder Scrolls V: Skyrim – June 29 at 7:46 a.m.
Chrono Trigger – June 29 at 6:02 p.m.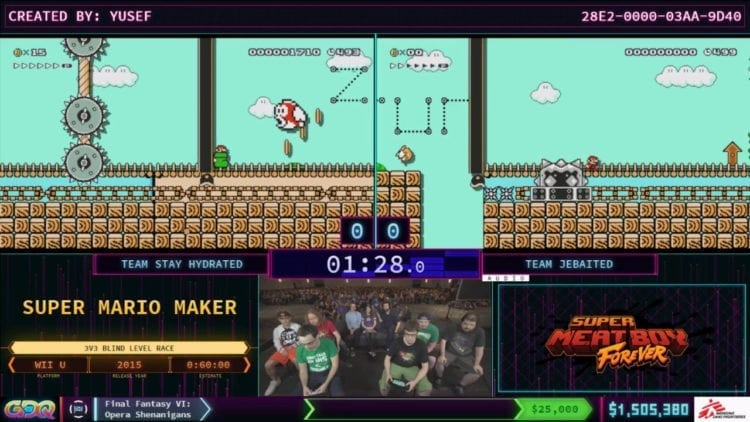 Of course, this isn't solely for the sake of having some fast fun. Games Done Quick's events are done for the benefit of charity. Summer Games Done Quick 2019 will benefit Doctors Without Borders. Awesome Games Done Quick, the first of GDQ's two annual events this year, raised around $2.4 million, and with SGDQ tending to be the larger event I'm hoping to see a new record. Viewers can donate for a range of incentives, from having bonus games played at the event to choosing what choices are made in certain games. (My vote always goes to kill the animals in Super Metroid.)
The event starts on Sunday, June 23 with the pre-show live at 11:30 a.m. CDT over on the GDQ Twitch channel. Will you be tuning into any of the runs? Let us know what you're most excited to see in the comments below!