Supermarket Shriek delivered a shopping spin on kart racing when it released last year on Xbox Game Pass. The game was recently announced for PC and a Nintendo Switch port too, and those versions are right around the corner. Ahead of the Supermarket Shriek launch, developer Billy Goat Entertainment has created a demo for the ongoing Steam Game Festival.
According to the team, the Supermarket Shriek demo is "full of chaotic levels to wreak havoc in," providing a snapshot of the overall game. This is a co-op party game at heart, so a demo with a solid amount of levels should provide what you need to get an idea of the experience. If you want an idea of what to expect before trying out the demo, the team dropped a PC and Switch announcement trailer back in July.
If a more in-depth look at the game would be ideal before you install the demo, the team also has you covered. Supermarket Shriek is part of Steam's own streaming schedule, where four speedrunners will go hands on with the game. The livestream show goes live today at 1 PM ET on Valve's Steam TV streaming client. It will also be re-broadcasted throughout the week.
About Supermarket Shriek
If you've not heard of this one even with its Xbox launch last year, Supermarket Shriek is a bit of a mental take on kart racing. Replace racing karts with shopping carts, add a goat, then create a play-on-words with the TV show Supermarket Sweep, and you're there. It's more than just a silly name though, as there's quite a bit stuffed into this one.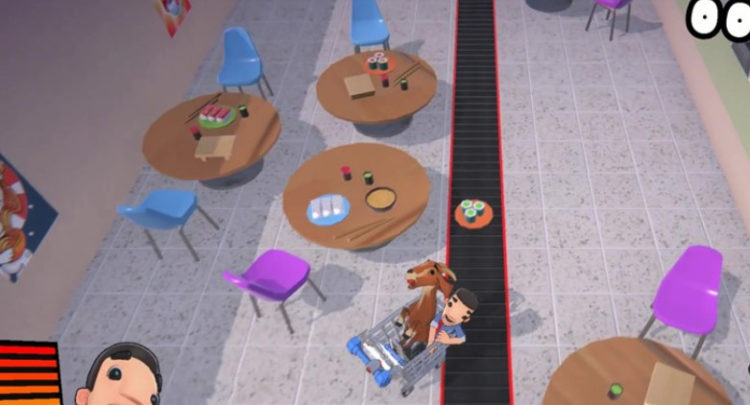 Supermarket Shriek contains 38 supermarket obstacle courses across three PvP party modes and supports up to eight players on Steam. Its purposefully unpredictable cart physics also add to the fun, and this one could make a great party game. The Steam Game Festival demo is now live, and the full version of Supermarket Shriek launches on October 23.