I've been looking forward to a new Sonic racing title for some time. I was wondering when Sega was going to get around to producing another one, especially after the fun I had with Sonic & All-Stars Racing Transformed. This was one of the reasons I was initially bummed when Team Sonic Racing saw a slight delay to Spring 2019. Sonic & All-Stars Racing Transformed was some of the most fun that I had with my Wii U. That probably indicates just how long it's been since Sega has graced fans with a racing title.
Much of what I've played in Team Sonic Racing reminds me of the art direction in Sonic Lost World. The level design and characters in that game were vividly illustrated, contributing to the overall world-building and pop that each location had. Team Sonic Racing mirrors much of that, providing unique and reimagined levels that can easily steal your gaze.
SYSTEM REQUIREMENTS
MINIMUM:
Requires a 64-bit processor and operating system
OS: Windows 7 64 Bit or newer
Processor: Intel Core i3 4130T (2.9GHz) / AMD FX 6300 (3.5 GHz)
Memory: 4 GB RAM
Graphics: Nvidia GeForce GTX 770 (2GB) / AMD Radeon HD 7870 (2GB)
DirectX: Version 11
Storage: 32 GB available space
RECOMMENDED:
Requires a 64-bit processor and operating system
OS: Windows 7 64 Bit or newer
Processor: Intel i5 – 8600K (3.6 GHz) / AMD Ryzen 5 1600X (3.6 GHz)
Memory: 8 GB RAM
Graphics: Nvidia GeForce GTX 970 (4GB) / AMD Radeon RX 570 (4GB)
DirectX: Version 11
Storage: 32 GB available space
AUTHOR'S SPECS:
OS: Windows 10 64 bit
Processor: Ryzen 7 2600x (8-core, 3.7 GHz)
Memory: 16 GB Corsair Vengeance RGB Pro
Graphics: XFX RX 480 Hardswap Edition (8GB)
Under the hood
I will start off by saying that Team Sonic Racing isn't exactly a hardware-taxing game. That's something that I've come to notice about Sumo Digital, specifically with their Sonic titles. One thing that stood out to me with All-Stars Racing Transformed (besides the long name) was the quality of in-game assets. With Team Sonic Racing, each level is doused in color and detail without sacrificing much of anything else.
The graphics menu lends a few options for tinkering. The global graphics settings can be changed from the traditional low, medium, and high settings. Outside of that, there are small modifications you can make to anti-aliasing and texture filtering. However, there's not much else when it comes to mixing and matching settings.
Stylin' and profilin'
In order to get a feel for each of the global settings, here are a few screenshots showing off each of them. The low settings turn off features like anti-aliasing, ambient occlusion, and changes the model quality to low. Other taxing visuals, like boost blur, are now off. Even with the settings turned down to low, the overall visual presentation for the game is still very much intact. This is even with seeing texture filtering bump down to trilinear. The shadow quality also takes a hit, moving to a low setting.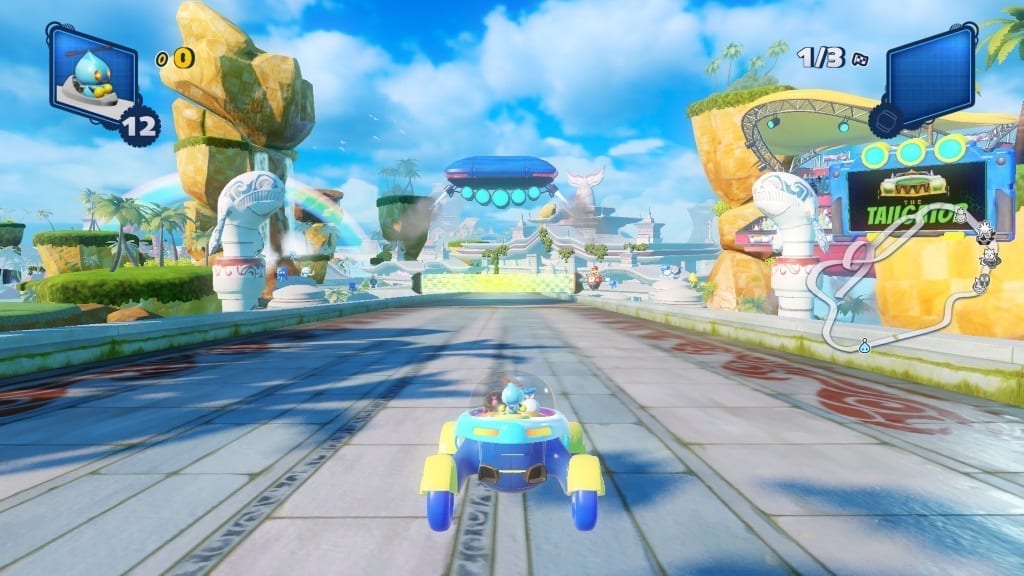 The medium graphics settings make things a little more polished, having anti-aliasing back on, along with boost blur and ambient occlusion. The model and shadow quality now go from low to medium, with texture filtering going to 4x anisotropic. You can also notice here that the racetrack details are much sharper.
Lastly, here are the global graphics settings on high. Every setting in the menu is now turned all the way up. As previously mentioned, there aren't a ton of options to dial back certain settings. They are either on or off.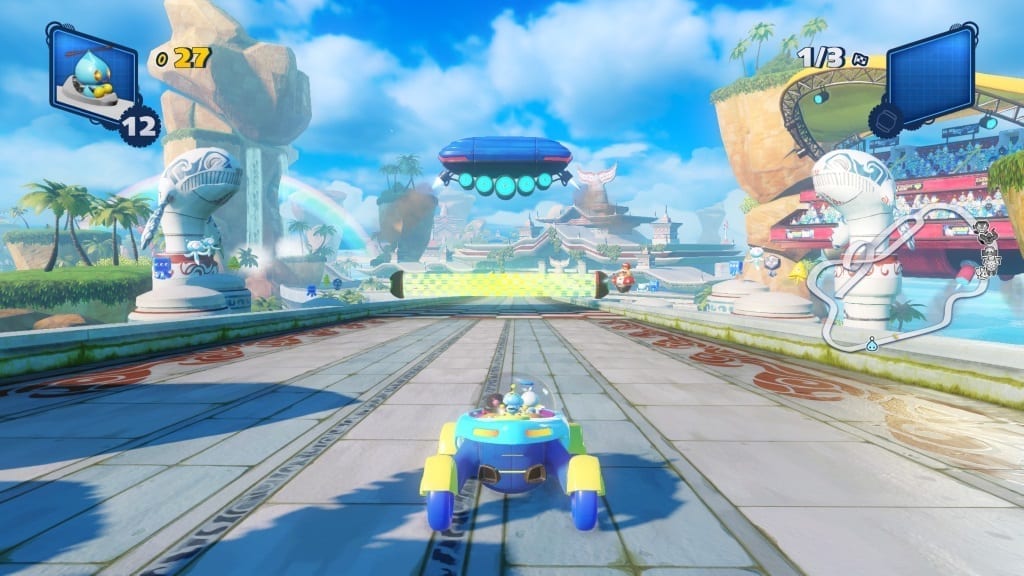 I was surprised to find that the basic video settings have a number of different options for resolutions. I don't know if this is to mirror its console counterpart. Whatever the case, the resolution can be downsized to 640×480. I'm not aware if the game does support much larger, as I've kept it on 1080P the entire time, even when changing the settings down to a minimum. As well, there are no options for V-Sync other than setting it in the on or off position.
Shadow work
Since the game is fairly vivid, there are a lot of noticeable shadows through the race. From palm trees casting dark spots from their branches on the raceway to high contrast locations where rock formations create a mix of dark and light, there are many noticeable areas where you can see this in action.
You can see in the image above how much the shadow definition changes from low (left) to high (right). The rocks become more deeply cast in shadows, even having a more defined shape to the shadows on the ground. Also, that's Shadow the Hedgehog in the car, heh.
Final Thoughts
Overall, I'm pretty damn impressed with the way Sumo Digital approached Team Sonic Racing. The game is much denser in level design than its main kart rival, Mario Kart 8 — or any other cart racer out there. This, for me, says a lot, considering the Mario Kart franchise is often viewed as the kart racing game.
Even if you bump the global settings down or slide texture filtering all the way down to its lowest setting, the game still provides busy worlds awash with color, not detracting from the overall kart racing experience. I just switched PCs so that I could move to a Ryzen based processor. However, it's pretty comforting to know that my previous AMD FX-8350 could have probably pulled off max settings with little to no quarrel. So, those of you out there who are circling around the minimum spec requirements, you won't miss out on much. Team Sonic Racing will keep its composure for you, scaling the experience without losing out on much under the hood.