As promised at the end of the short-term roadmap, Crema has now released the mid-term roadmap to outline its plans for Temtem into 2021. The major highlights of the latest roadmap are Club Dojo Wars, the Trading House, and Ranked Matchmaking V2 coming in winter 2020, followed by the game's full release in early 2021.
Crema was quick to point out that all the features outlined in the Temtem mid-term roadmap are still very far away, so there's still a lot of room for them to change.
Club Dojo Wars
Dojo Wars is a feature that will allow players to impact the world of Temtem. Each island in the Airborne Archipelago will have a Club Dojo, which means there will be six in total. Clubs (Temtem's clans) will be able to challenge the current Dojo leaders each week through in-game tournaments and battles with the other participating Clubs.
If a Club successfully conquers a Dojo, they will be able to decorate it however they like. Club members will also earn rewards while their Club holds a Dojo. Dojo Wars should be a wonderful way to spice up the endgame and give players a challenge each week.
Temtem's Trading House
Currently, Temtem's trading is organized through Discord and third-party sites. It's not an ideal situation for an MMO. Fortunately, Crema plans to add a Trading House to the game in late 2020. The Trading House locations are actually already in the game, but they're shut off with WIP signs.
Trading Houses work the same as they do in most other MMOs. Players will be able to post offers and requests without having to deal directly with anyone. You'll be able to sort through listings to find exactly what you're after without the risk of being scammed.
Crema is also considering some more creative ideas for the Trading house. Such options include timed auctions, live auctions, and random trades. The first two sound like they'd be exciting. Random trades though… not so much.
Ranked Matchmaking V2
Ranked Matchmaking V2 doesn't sound like the most exciting feature for Temtem, but it will actually add a lot more rewards to the PvP side of the game. Matchmaking V2 will introduce different leagues and medals to the competitive side. And players will earn rewards based on where they finish the season.
Speaking of seasons, Crema is considering Temtem's time in Steam Early Access to be pre-season. Once the full game launches, the first competitive season will begin. Balance patches will then only be done between these periodic seasons, meaning each season will have a unique and (hopefully) stable meta.
Worth mentioning with the improvements to Ranked Matchmaking are the plans to also improve Spectator Mode. Spectator Mode V2 is targeted at the professional competitive scene and will give broadcasters and streamers complete control of how they host and view matches.
The full 1.0 release
Most of the features that will contribute to Temtem achieving 1.0 status are going to roll out periodically before the game's full release. However, the biggest feature that will hopefully be launched in conjunction with 1.0 is cross-play. All Temtem players from all platforms will play together in the Archipelago. Sounds dreamy.
There are some technical and legal restrictions Crema needs to navigate to make cross-play (and maybe even cross-save) possible. But they sound optimistic in the mid-term roadmap.
Temtem Cosmetics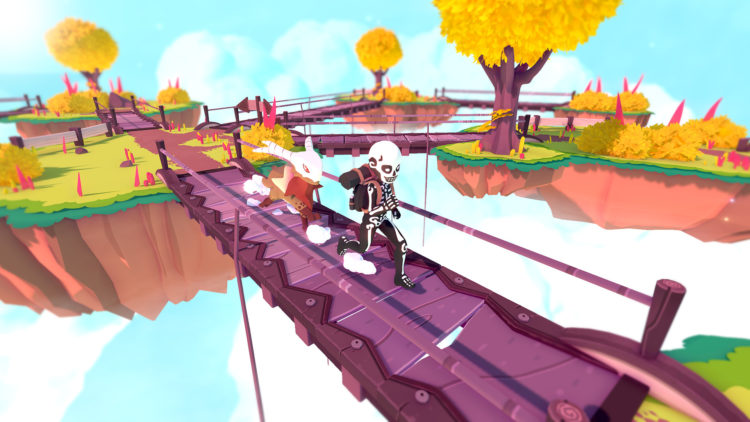 One of the wonderful things about Temtem is that it will never be pay-to-win or even pay-to-get-an-advantage. Crema has committed to this, but they do need to make money following players' first purchase of the game to keep the world alive. A cosmetics store offering unique customizable options to players is one of the ways Temtem will be monetized.
Another is a cosmetic battle pass. This will give players an additional leveling system for the current season and offer seasonal cosmetic rewards for completing objectives. The battle pass will have a free and premium reward track.
The nutty Nuzlocke game mode
Nuzlocke is basically Temtem hard mode. Every time one of your Tems gets knocked out while playing this mode, they will be permanently released. Plus, the number of capturable Tems is limited to one or two per area. It's the ultimate challenge for Temtem tamers, and it will likely become a superb place for new types of player-made content – like speedrunning.
If you'd like to see the Temtem short and mid-term roadmap neatly laid out in one place, you can check it out below. You can also check out Crema's full post on their website.