Temtem's latest Weekly Reset for the Saipark and FreeTem! Organisation will run from March 2 to 8. And it's a good week to be a Luma hunter. This week FreeTem will reward players with a dye bundle if they catch and release 300 Temtem. And in Temtem's Saipark, players can encounter Gankis and Saipats at 2.5x the regular Luma rate.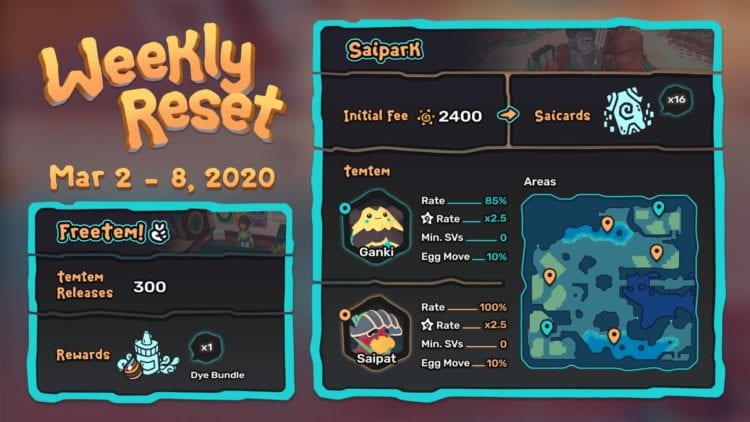 Weekly FreeTem! Organisation reward
If you catch and release 300 Temtem this week, FreeTem will reward you with a Sillaro Romance Dye Bundle. It's not the best reward, particularly when you consider the amount of effort you need to put in to catch and release 300 Temtem – it's the highest amount players have been charged with releasing so far. The previous reward for doing so was also a dye bundle.
Dyes in Temtem are single-use items. So, you're not even permanently unlocking access to a color palette. Plus, dyes are incredibly expensive. The Sillaro Romance Dye Bundle can be purchased in Turquesa for 28,999 Pansuns. To put that into perspective, you can buy a perfect 7SV Temtem for less than that.
You can't sell the dye bundle for even close to the same amount as you purchase it for, however, players will purchase the Forge Dye for around 13,000 Pansuns. But that amount is probably getting lower by the day this week.
Luma Ganki and Saipat in the Saipark
The main attraction in Temtem this week is undoubtedly going to be the improved chance to catch a Luma Ganki or Luma Saipat in the Saipark. The chance to encounter Luma Temtem in the wild is 1/8,000. But this week, Ganki and Saipat have a 1/3,200 chance to be Luma when encountered in the Saipark. The odds are still not in your favor. But those numbers are going to be very enticing for many Luma hunters.
You can get 16 Saicards for 2,400 Pansuns. But if you're Luma hunting, you're holding out for that one shiny encounter. So, you only need one Saicard; maybe two if your first throw doesn't capture the Temtem. Think about it this way: You're paying 2,400 Pansuns to improve your chances of catching a Luma by 2.5. That's a good deal. You also have a chance to get a Luma with an Egg move, which is really good. Particularly for Ganki who needs Tesla Prison in his arsenal to be competitive. 
I've talked about it before, but you need to know what you want out of the Saipark before spending your hard-earned Pansuns on it. If you don't want to spend hours hunting a Luma Ganki or Saipat this week, don't waste your money.
Check back with us next week for details on Temtem's next Weekly Reset. You can also check out our guide hub for assistance with other parts of the game. Happy hunting, tamers.