Dota Underlords seemed like an odd name choice for Valve's version of auto chess. They gave it a quirky, crime boss-style aesthetic, but never really gave meaning to the 'Underlords' part of the name. In The Big Update Part Six, we finally get to meet the first Underlord.
For a while, it may have seemed like the players were the Underlords of the game, controlling their units and fighting against enemy gangs. But, as it turns out, that's not the case. The Underlords are units that will fight alongside the Heroes you hire. Each one brings a unique set of perks and abilities to the battlefield. To use their abilities, they require a unique resource called Hype. An interesting word choice.
The Underlords will also be able to power up their abilities through the use of talents, much like you do with heroes in Dota 2. Starting from round 10 and repeated at every neutral round thereafter, you will be presented with a choice of talents to pick from. The Underlords and their talents add another layer of complexity to Dota Underlords, making it harder to master, but also making winning feel even more rewarding.
The Big Update is burying the meta six feet under. If you've ever considered trying your hand at an auto chess game, now's a good time to get into Dota Underlords.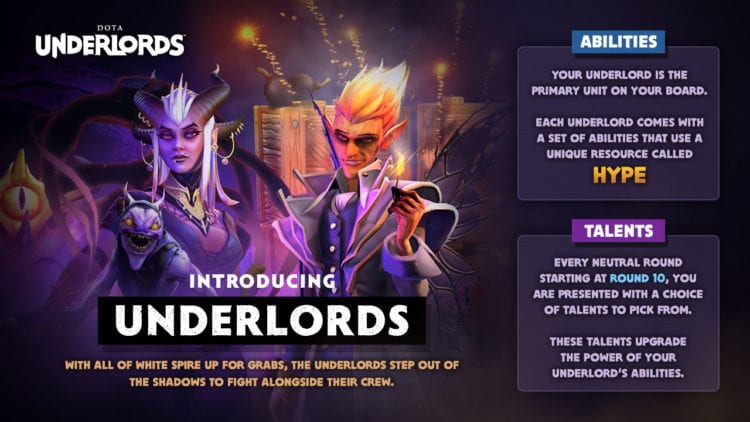 The first Underlord
He's a maniac – a fairy pyromaniac called Hobgen, to be more precise. He will damage enemies by throwing firebombs at them, and he'll support allies by lighting them on fire. It's an unorthodox kind of support. He does it to help them, truly.
Hobgen is a ranged unit who grows stronger based on the number of units he sets on fire. He has three unique abilities, along with a choice of two ultimate abilities at round 20.
Looking at Hobgen's abilities above, you can already begin to see how the different Underlords will synergize with specific Heroes and Alliances. His Super-Charged, for instance, would work excellently with Dota Underlords Heroes from the Assassin Alliance, who focus on dealing damage.
Each Underlord has over 20 talents to unlock and choose from. This tells us two things. It looks like there will be a progression system with Underlords. Also, there will be a wide choice of playstyles for each Underlord.
From the talents that have been revealed in the below image, we can see how different choices will play to different strengths. You could focus on buffing Hobgen himself with Hot Rod, or you could stick with the Assassin Alliance strategy mentioned earlier and make them go Kaboom when they die.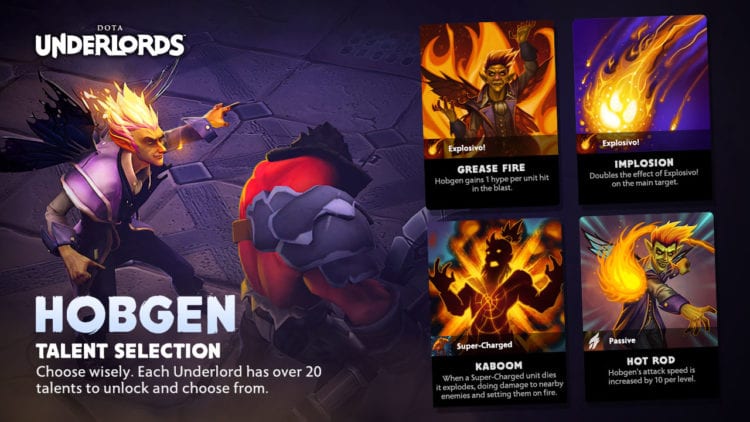 It's an exciting time for Dota Underlords. The Big Update is doing exactly what its name promises and adding big new things to the game. New Heroes, new Alliances, new mechanics, new game modes, and now, the Underlords step out of the shadows.
As always, if you'd like to venture into the shady underground of Dota Underlords, you can download it for free through Steam.