In its ongoing battle to be the top auto chess game on the streets, Dota Underlords is making drastic changes every week. Last week we saw big changes to the two Underlords, Hobgen and Anessix. This week, the Underlords receive another rework and the jail system gets some tuning.
Guilty
The jail system was introduced to Dota Underlords in The Big Update to keep the game feeling fresh day after day. Eight-to-12 random heroes are jailed every day, forcing players to come up with new strategies based on what is available, as opposed to working out the most powerful builds and copying those game after game. It's a great system to keep the game interesting and entertaining, but also to separate the best players from the mediocre ones. I wonder if they'll have some kind of jail system in the Dota Underlords competitive scene. It would certainly make each tournament more exciting to watch.
While the system has been preventing a stagnant meta in the game, some alliances have been overly punished (the Scrappy and Inventor alliances), and others haven't been affected at all (the Assassin alliance). So, the judiciary system is getting tweaked.
After the update, up to three heroes from a single alliance can be banned. This means you won't be able to complete certain alliances on some days. Previously, Valve had intended for all alliances to always be able to be completed. One Ace will be jailed every day. That's a significant blow to the alliance whose Ace gets jailed. And heroes from tiers 1-4 can no longer have more than one unit banned over other tiers.
An important thing to note is that some heroes have changed alliances. Be mindful of this when creating your strategies.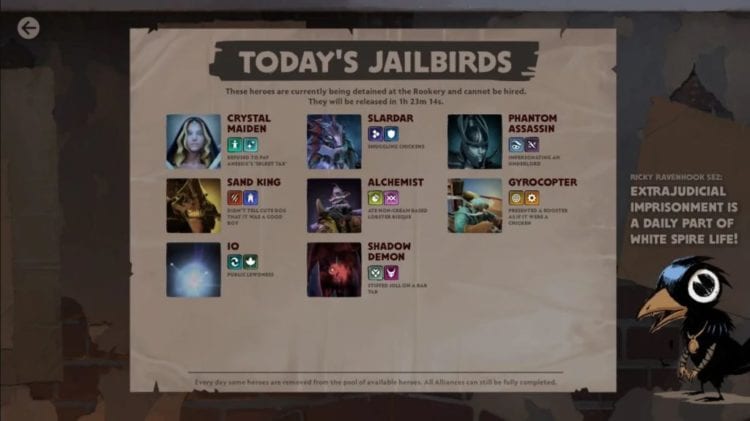 Time for something completely different in Dota Underlords
The Underlords were always going to have a big impact on Dota Underlords gameplay. The result of their significance is that it's taking some time to get their balance right. The development team thinks that the Underlords are overshadowing the heroes too much. I'm not sure why this is surprising to them; the Underlords were introduced as your primary unit. Of course they will be the main focus of your entire game plan.
This week the Underlords have received some minor ability tweaks, which you can see in the full patch notes. But the significant changes are how they work within the gameplay system:
Rank is no longer tied to Player Level. All Underlords in the game grow steadily in power throughout the game on the same schedule. At their maximum power, they are equivalent to the old version's Rank 8.
Underlords no longer require Hype to cast abilities. Abilities start on cooldown and will be cast every time their cooldowns are ready.
Hype now increases your Underlord's damage (up to +50% max Total Damage at full Hype) and how fast their cooldowns tick (up to 40% faster at full Hype).
Ultimate abilities can now only be cast once.
As always, you can see all the hero and Underlord changes, as well as the quality-of-life improvements, in the latest patch notes on the Dota Underlords website. Dota Underlords is free to play and available for down on PC via Steam.