Games with a lot of action are engaging and fun, but sometimes a well-paced narrative game is what we desire in our hectic world. The upcoming story-based The Magnificent Trufflepigs by AMC Games may just be worth uncovering. Its premise is certainly interesting. The Magnificent Trufflepigs is a narrative adventure that involves romance and metal detecting in an idyllic English countryside. However, not everything is as peaceful as it seems.
Fans of Doctor Who should especially take notice of the game. It stars Arthur Darvill, who played Rory in the long-running show. He was the Eleventh Doctor's companion from 2010 to 2012. Of course, if you've watched DC's Legends of Tomorrow, you may better recognize him for his role as Rip Hunter.
I'm sure that many narrative game developers have grown tired of comparisons to Firewatch, but it'll be difficult otherwise in this case. The Magnificent Trufflepigs has you take the role of Adam, returning to unearth long-lost treasure and junk around his home town of Stanning. He enjoys a back-and-forth conversation via walkie-talkie with a woman named Beth (voiced by Luci Fish) while sweeping a metal detector in search for buried goods. However, something seems amiss.
What's all this then?
In the trailer released today, it becomes clear that there's more to the story than simply digging up old bottle caps with a shovel and spade. The police become involved, adding some mystery into the mix. My guess is that Adam uncovers something else buried in the ground, and has caught the attention of local authorities. Of course, this is just speculation on my part. The Magnificent Trufflepigs seems intriguing, and it may already have its hooks in me.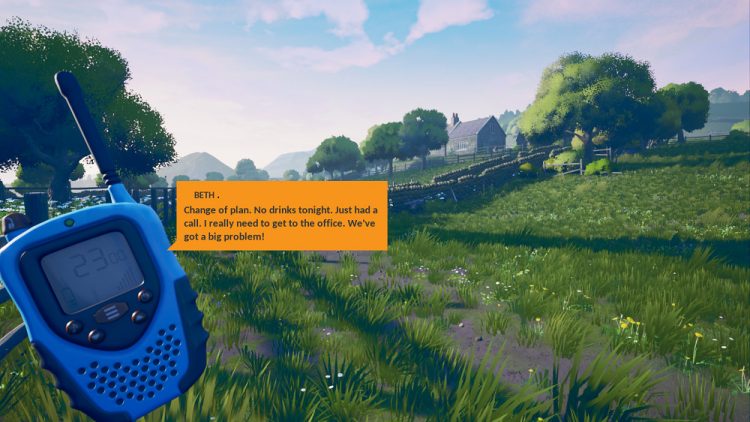 The game is under development by UK-based Thunkd. Andrew Crawshaw, studio founder, was the lead designer behind the well-known narrative game Everbody's Gone To The Rapture.
"Thunkd is extremely proud of The Magnificent Trufflepigs, but gems like this can only be unearthed with the help of like-minded partners that are prepared to dig a bit deeper to find something special," Crawshaw remarked in a press release. "Everyone at AMC Games and SundanceTV has helped to ensure that making our first game has been an experience that we'll treasure."
The Magnificent Trufflepigs is heading to PC via Steam early summer.