The latest preview video for The Medium is a really interesting look at what developer Bloober Team has put into its next game. The studio lays down nine facts about The Medium, including its real-world inspirations and the origins of the game. As it turns out, the team's latest effort has strong ties with the developer's past.
Let's go through the video as it's laid out. The first fact is that this game has been around for almost 10 years in some fashion. The Medium, with its dual-reality concept, has existed in some form since the seventh generation of gaming. The title was initially in the works for Xbox 360, PS3 and even the Wii U, believe it or not. We're glad to see it finally end up on PC, mind.
The team also said that the game's two main characters are based on two famous Polish actors, and that both of them helped shape their in-game counterparts. Speaking of shaping a game's direction, various developers who worked on Silent Hill are on the project too, including Silent Hill's main composer, Akira Yamaoka.
Grounded beginnings
The developer then discussed its environmental inspiration. The Medium's Hotel Niwa is based on a real Polish hotel called Hotel Cracovia. The team went in and scanned the whole place, before making it look desolate for a horror game of course. There's also a real Krakow apartment recreated in The Medium, and it's not the first Bloober Team game you've seen it in. The very same building features in Observer: System Redux.
When it comes to cutscenes, there are roughly 90 minutes of them across The Medium's 8-10 hour duration. Some of them also take advantage of the dual reality mechanic, and they were all mapped out by the lead developers before real actors came in. When transitioning to gameplay, you can check your spirit reality energy level by looking at the main character's arm. Bloober Team says this was done to keep UI to a minimum.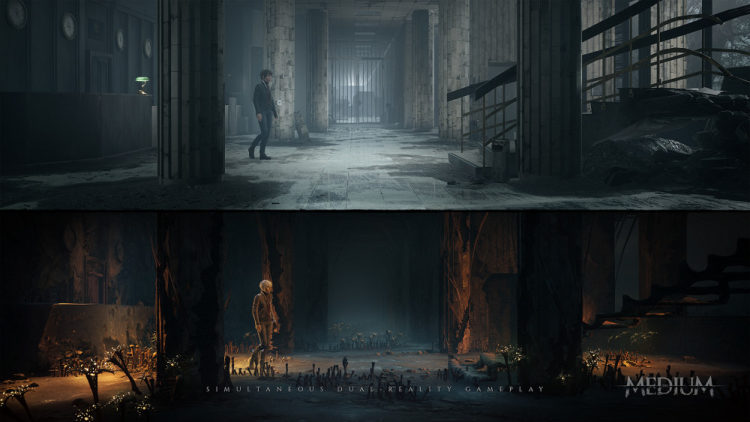 Finally, the Polish developer discussed what other references you might find in The Medium. The game is set in an abandoned communist resort, so you'll see some Soviet-esque imagery scattered about the place. The developer also tucked some pop culture references into the game world, along with allusions to some of the team's previous games.
It looks like an incredibly interesting place, and one you'll be able to explore real soon. The Medium launches for PC on January 28, and it's included with Xbox Game Pass for PC.