There's one companion in The Outer Worlds you won't get through conversation, and that's SAM, a cleaning robot. A cleaning robot repurposed to mop up people. He is obtained in the quest The Cleaning Machine. Whether or not you're going to use SAM is up to you, but if nothing else the new crew interactions on the Unreliable should make it worthwhile. Also, this companion likely won't offer any complaints if you go on a murder spree.
To get pointers on where to go, you can examine the deactivated SAM unit next to the crew quarters, talk to ADA, and check through the captain's terminal. This should also unlock the quest to repair SAM (The Cleaning Machine). However, the long and short of it is that you're heading to Roseway. If you haven't got access to that, ask Gladys on the Groundbreaker about opportunities to make money, and she'll tell you about a distress call. That'll get you there.
RoboMop: Lean, mean, cleaning machine SAM
If you want to kill two birds with one stone, pick up Orson Shaw's quest — "Vulcan's Hammer" — on Roseway. That quest resolves in the same building as the Acid Steeper you're looking for. Leave Roseway from the south exit, and immediately beeline to the east. The storage facility is to the far east of the map, as shown below.
Once inside, a little exploration will show that the armory door is locked. Unfortunately, that's where you need to go. You can either hack it open (40 skill required) or check the sticky note by the door for the places you can find the code.
Unless you've already picked it up from the secondary location, the easiest way to get the code is in this facility itself. Continue exploring and head upstairs. To the very back, past some droids, you'll find a corpse with the passcode on it.
Make your way back downstairs, unlock the armory, and pick up the Acid Steeper just inside the door. Head back to the Unreliable, stroll up to SAM's bay by the crew quarters, and install it. Voila! A new, acid-spewing crew member for The Outer Worlds.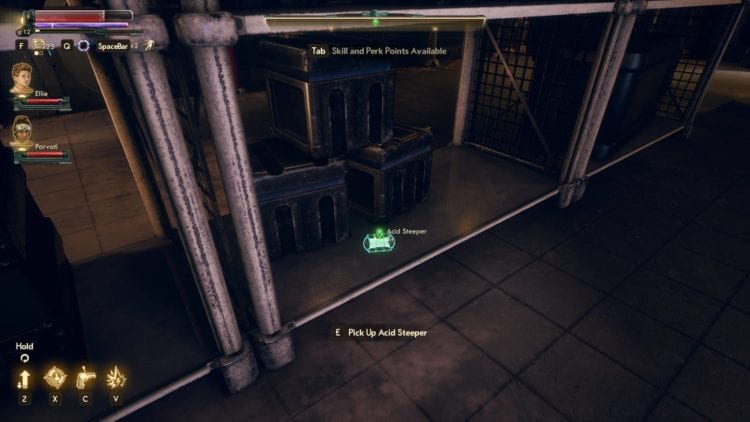 For more The Outer Worlds tips and guides, check out our hub page.