It's not just the Faction Council that had a rework. Here's our guide to help you with the Faction Ranks rework that's part of a free update coinciding with the release of Total War: Three Kingdoms – Fates Divided.
Note: For more information, check out our Total War: Three Kingdoms – Fates Divided guides and features hub. Likewise, please be reminded that this guide is based on Romance Mode playthroughs.
Total War: Three Kingdoms – Fates Divided – The Faction Ranks rework
The previous Faction Ranks mechanic in Total War: Three Kingdoms had you gaining more prestige, earning a new title automatically once you hit the requirements. However, in a free update that releases alongside Total War: Three Kingdoms – Fates Divided, the Faction Ranks rework allows you to tailor-fit how your chosen leader progresses.
Whenever your leader attains enough prestige to hit a new milestone, you'll be notified that "your power has increased." Open the Faction Screen and you'll notice that you may allocate Prestige Points to five different categories: Assignments, Administrators, Trade Agreements, Spies, and Armies. You'll only have around four Prestige Points to distribute at Second Marquis and Marquis rank. But, you'll have more once you reach Duke and King.
Anyway, each category has a regular bonus that increases per level, as well as another that gradually increases from level 2 onwards. Naturally, there are bigger bonuses if you manage to hit the maximum level for that particular category. The ones you see below are all faction-wide bonuses unless stated otherwise:
Prestige Point Progression
Regular Bonuses
Maxed-out Bonuses
Assignments
Extra assignment slots
Increased character experience
8 assignment slots
-25% character salary
+50% character experience
Administrators
Extra administrators
Reduced character salary (administrators only)
8 administrators
-15% administrator salary
+10 food production (prestige)
Trade Agreements
Extra trade agreements
Extra trade influence
8 trade agreements
+25% trade influence
+25 diplomatic relations with all factions
Spies
Extra spies
Additional maximum cover for spies
8 spies
+15 maximum cover while spying
-10 undercover network costs for spy actions
Armies
Extra armies
Additional satisfaction while commanding
8 armies
+15 satisfaction while commanding
-15% upkeep for all units
Becoming King and Emperor
Perhaps the most important facet of the Faction Ranks rework in Total War: Three Kingdoms – Fates Divided is the ability to hold off on declaring yourself as King. This is the game's "Realm Divide/Civil War" mechanic which, upon reaching, fractures any alliances and goodwill you may have with the two largest factions on the map. It can be a hassle especially considering that those two AI factions would declare themselves as Kings/Emperors as well.
Before, this happened automatically once you reached 500 prestige. Now, you can simply avoid becoming King/Emperor until you're ready. However, there are some crucial caveats to consider, and these involve campaigns where you plan on restoring the Han and Emperor Liu Xie.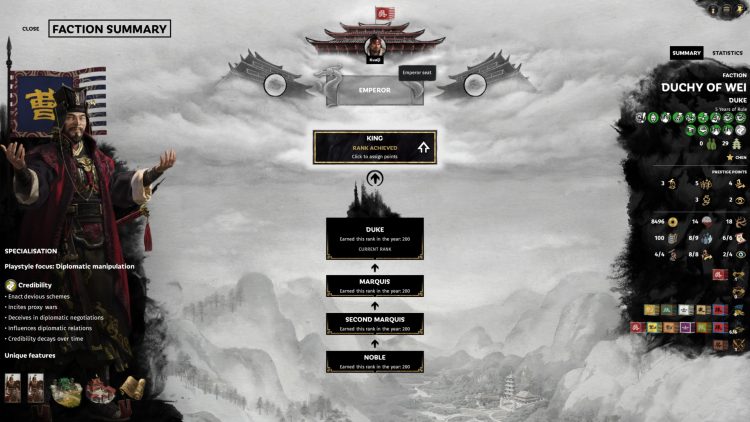 ---
Total War: Three Kingdoms – Fates Divided is available via Steam. For more information, check out our guides and features hub.