In our official review of Total War: Three Kingdoms – Mandate of Heaven, I enumerated numerous bugs that have popped up from time to time in my playthroughs. Examples include Red Hare missing from Lu Bu once he joins Dong Zhuo, Liu Bei getting duplicates of Guan Yu and Zhang Fei, and Emperor Liu Hong having a ridiculously easy romp. All these and more will addressed in Mandate of Heaven's upcoming 1.41 update.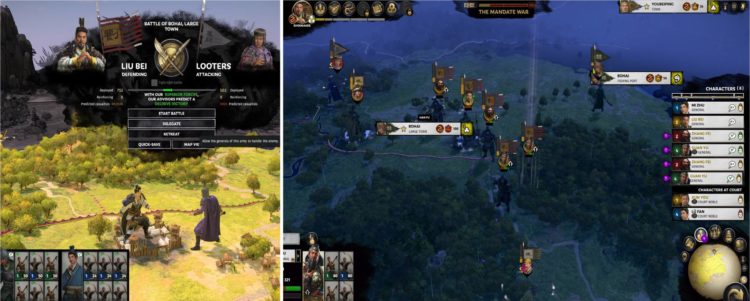 Total War: Three Kingdoms – Mandate of Heaven patch 1.41
The image you see above shows Liu Bei getting duplicates of his sworn brothers, Guan Yu and Zhang Fei, a bug that's very easily replicated and can definitely help you out during Mandate of Heaven's campaign. That bug's getting squashed in the 1.41 hotfix. Similarly, many changes will invariably affect Liu Hong's progression:
Made changes that mean when playing as Liu Hong the player cannot leave the war to other members of the empire, as the AI has now been modified so that you are less likely to win the war if you do nothing.

To reduce the starting strength of the Imperial Army, the army units now start at half strength.

To help rebalance the amount of money available in this campaign, we have employed a fix that means trade agreements are unlocked at half the previous rate.

Reduced starting number of assignments available to Liu Hong.

Increased the release/banish cost from 25 to 80 influence and the first mission reward has been increased from 25 influence to 80 to partly compensate for this.
If you've been checking out our Liu Hong faction guide, you'll know that his Mandate of Heaven campaign is one of the easiest playthroughs you'll have. It's possible to have 50,000+ gold and high income generation before you start warring with the Yellow Turbans. After that, you could annihilate the rebels in the north or play a more passive game where your AI Han allies do everything for you.
There are even "gamey" tricks that'll let you ask officers for money to get them to leave your roster rather than using his political influence mechanic. Less than a couple dozen turns after starting your journey, you could even have 11 trade agreements set in stone.
As such, Total War: Three Kingdoms – Mandate of Heaven's 1.41 patch aims to rectify these issues, presenting new challenges. You can view the full patch notes here.
---
Total War: Three Kingdoms – Mandate of Heaven is available on Steam. Likewise, you could also check out our Mandate of Heaven guides and features hub for more information