It's been years since Ubisoft has done anything with its Far Cry 3: Blood Dragon spin-off. The game launched years ago for Xbox 360, PlayStation 3, and PC, but since then, we haven't seen any kind of continuing adventures. We did see a Trials Fusion spin-off that was good fun, but we're talking something that needs to tie in with the lore of the series. Fortunately, it looks like the publisher is finally doing that – and in the most awesome way possible.
Ubisoft has announced several new animated shows, including a Rabbids Invasion special, a Watch Dogs series for tweens, Hungry Shark Squad based on a mobile game, and something pertaining to Rayman. But the biggest announcement is Ubisoft is pairing up with Adi Shankar for Captain Laserhawk: A Blood Dragon Vibe, which ties in with the Blood Dragon world. Shankar is the producer of the popular Netflix Castlevania series and is also hard at work on a new Devil May Cry show as well.
Ubisoft Film & Television, Paris managing director Helene Juguet expressed her excitement to work with Shankar on the project while speaking with The Hollywood Reporter: "Adi is such a great fan of video games. We share the same culture and references," Juguet says. "It's been great to give him the freedom to do something very fresh and bold with our characters."
Great, but where's Colt?!
The promo poster for the series is below. It looks to feature an eclectic cast of characters, as well as an art design similar to that of the Blood Dragon game. However, there doesn't appear to be any sign of Michael Biehn's character, Sergeant Rex "Power" Colt, from the game. At least — not yet. The possibility for a crossover is definitely there.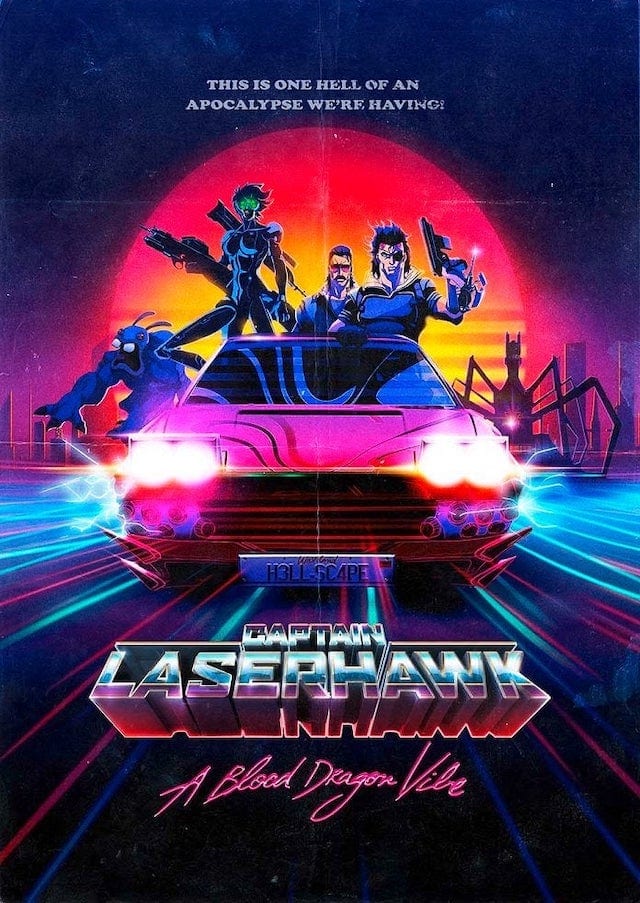 Ubisoft has not yet announced a release date for Captain Laserhawk: A Blood Dragon Vibe or its other projects. Nevertheless, it's good to see that it's in the works, meaning that they haven't forgotten about it. Still, a game sequel would be pretty nice to see…