Rooster Teeth Games first announced Vicious Circle back in January, with the main hook of an "uncooperative" multiplayer shooter. Set in a gritty sci-fi universe inspired by comic books, this is the first original IP from Rooster Teeth Games. Previously, the studio developed RWBY: Grimm Eclipse, an adaptation of the anime. The developer announced the release date for Vicious Circle during the San Diego Comic-Con over the weekend. So if you're looking for a quirky multiplayer shooter with a unique aesthetic, it will release on PC via Steam on Aug. 13.
Vicious Circle is a colorful and fast-paced multiplayer shooter where four mercenaries compete for loot against each other. However, they also have to avoid or confront some sort of weird alien monster. Each round, a fifth player is (randomly?) selected to become a juggernaut alien creature. This alien beast has one simple goal: to kill all four mercenaries with its alien powers and slimy tentacles. Players can work together, using their enhanced senses and unique abilities to divide and conquer their opponents, hunting them down.
Vicious Circle goes round and round
This may sound like a pretty standard multiplayer shooter, but here's the catch. While you can team up with rivals to survive the monster onslaught, only the player with the most loot wins. That means you will have to play dirty sometimes. You can use gadgets and abilities to use the environment against your adversaries, locking doors, trapping them in rooms with the monster, and even pulling loot from under them.
So the question is whether you want to team up against the monster that's hunting all of you down, or "get schwifty" and sneak your way to a long con in the background so you can one-up your rivals as they wear the monster down. However, as Rooster Teeth Games warns players, what goes around comes around, which implies the game will have ways to punish or reward players depending on their play style.
I'm not big on multiplayer shooters, but I quite like the idea of an uncooperative shooter where you can sabotage other players. It's a good twist on the usual run-and-gun formula, which for me tends to get old quickly. We'll just have to see how much sabotage is actually possible and whether that will feature a lot of gameplay variety beyond just locking doors and setting traps.
Vicious Circle 2019 roadmap revealed
As expected for a game of this type, Vicious Circle will rely on constant updates, events, seasons, and new content to keep players continually engaged. So there's already a roadmap available for early adopters, with a lot of details on what to expect, including a free Season 1 battle pass.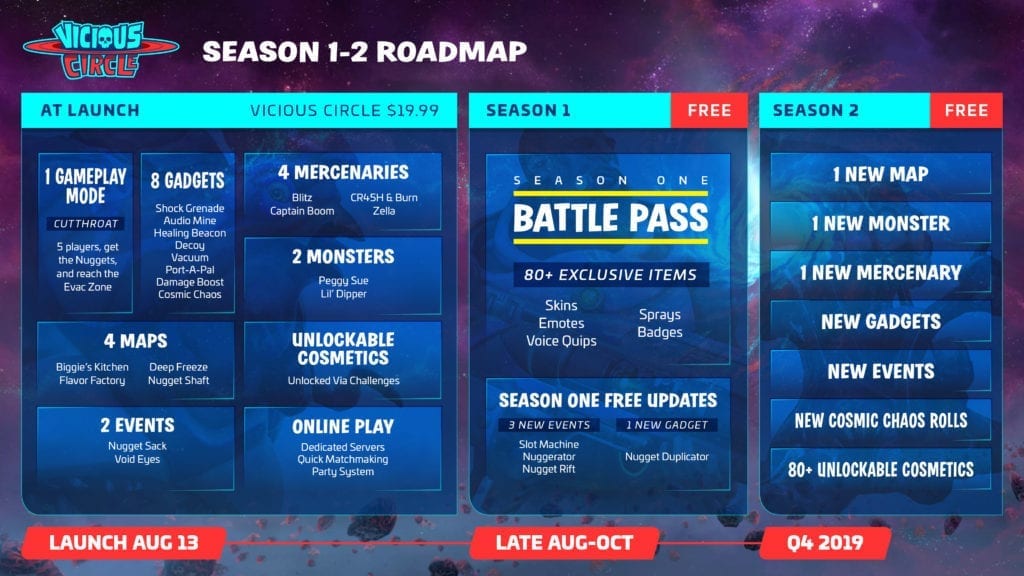 You can already wishlist Vicious Circle on Steam, and it will be available for $19.99 on release. You can find more information about the game on the official website.
What do you think of Vicious Circle? Will it offer a new type of multiplayer shooter experience that stands out from the big boys in the genre? Drop your comments below and tell us what you think!