In the latest Valorant Dev Diary, Lead Game Designer Trevor Romleski and Senior Game Designer Salvatore Garozzo delve into the process behind the game's character and ability design process. Romleski also discusses the cadence of balance updates and how Valorant will not follow the League of Legends' two-week model.
You may not recognize Salvatore Garozzo by his given name. However, if you watched the devs vs. streamers show match, you'll certainly be familiar with the name Volcano – Garozzo's in-game name. He's also well-known in Counter-Strike: Global Offensive circles for designing one of the game's most popular maps, Cache. It's safe to say he knows what he's doing when it comes to map design. And he also knows how abilities impact gameplay in those spaces.
Guns vs. abilities
The first thing Romleski makes clear is that the pace of Valorant is intended to be slow. Like CS:GO, this forces players to think and execute more tactically. You need to think about a fight before bullets start flying and be "methodical and intentional about your actions." That perfectly describes how Valorant will be played at a competitive level.
In the same vein, you'll want to think about how to utilize the agent abilities to move around the maps and take up advantageous positions. Then, you'll need to beat your opponents in a gunfight, not an ability war (except for Raze – nerf please). Garozzo says the devs believe Valorant's combination of "positioning, ability usage, and individual mechanical skill combine to create something special."
The balance for Valorant will always be trying to prevent the abilities from overshadowing the gunplay and mechanical skills of the players. To that end, the devs have a framework that helps them identify the role new characters fill in a team, or even just how an ability would impact gameplay. Some roles will be similar to other tactical shooters, like an entry fragger from CS:GO. However, Valorant's agents and abilities allow for some unique roles as well, like a vision blocker.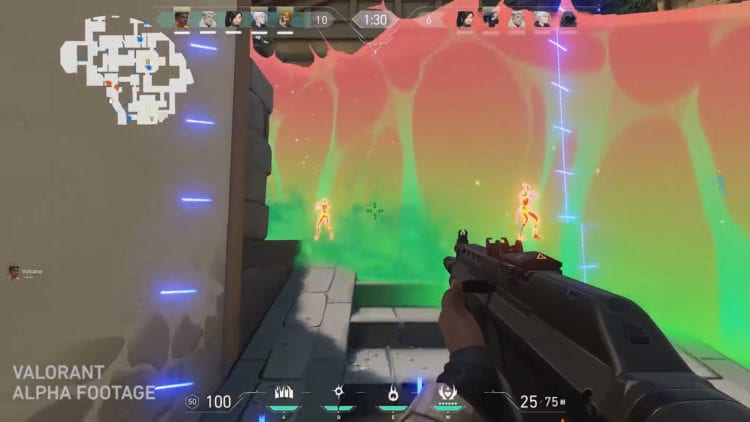 The Valorant update schedule
Riot Games' other big title, League of Legends, has a patch every two weeks. People speculated that Valorant might follow a similar schedule. However, the devs have said they don't want patches in the game to be knee-jerk reactions. They want to give players enough time to problem solve and work out if agents or abilities are truly overpowered. It's still early days, though, so update timings are subject to change.
Garozzo ends with one last point on the designing and updating of Valorant. As a former competitive player, he knows that small changes to mechanics can have a big impact on the skills a player has developed. So, the Valorant team wants to be "very, very delicate" in how they approach changing mechanics. They want to respect the time that players put into the game.
Hearing the Valorant devs talk always reassures me that the game is in good hands and moving in the right direction. What are your thoughts on the game? And how has your experience been, if you've managed to get into the closed beta?