It's Valorant launch day, and players around the world are going to be flooding into the game as it releases in their time zone. But before you rush in, a lot of new stuff has been added since the beta ended a few days ago, including new agent Reyna, a new map called Ascent, and a new game mode called Spike Rush. The Valorant launch day patch has also made changes to almost half the Agent roster.
Here's a visual summary of the launch day patch.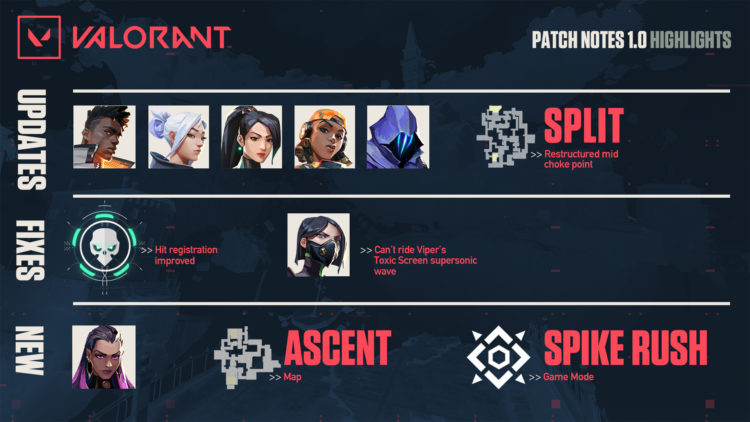 Sage changes
Players were introduced to the vampiric new Agent, Reyna, a few days ago. So, let's jump into the changes made to the veteran Agents. The powerhouse Sage has received some more nerfs. Healing Orb now has a 45-second cooldown, 10 seconds longer than before. Plus, Barrier Orb has had its health reduced by 200 to 800 and its duration is now only 30 seconds, down from 40 seconds. These changes do a good job reining in Sage's power. However, she's still going to be a top-tier Agent while no other character can heal allies or create impassable walls.
Phoenix changes
Phoenix has received changes to all his abilities. His fiery wall, Blaze, will now last eight seconds instead of six. Plus, the amount of damage and healing it does per tick has been reduced, but the damage and healing ticks happen more frequently. Hot Hands has been given the same treatment, but the healing amount remains the same. The blind duration of Curveball has been increased from 0.8 to 1.1 seconds – a much-needed buff. Finally, Run It Back receives a nice quality-of-life change with all weapons being automatically reloaded when you respawn.
Omen changes
Omen's Paranoia is now equipped instead of quick cast. The Valorant team wants this ability to be used more proactively. Dark Cover will now shift Omen into a "phaser" world where he can see through walls to place his smokes. You can use your Reload button to shift between the "phaser" world and normal vision. Your teleport location for Shrouded Step is now visible on the map, which will help you land where you intend. And finally, From the Shadows can now be canceled. So, using it isn't a death sentence if enemies find you.
And the rest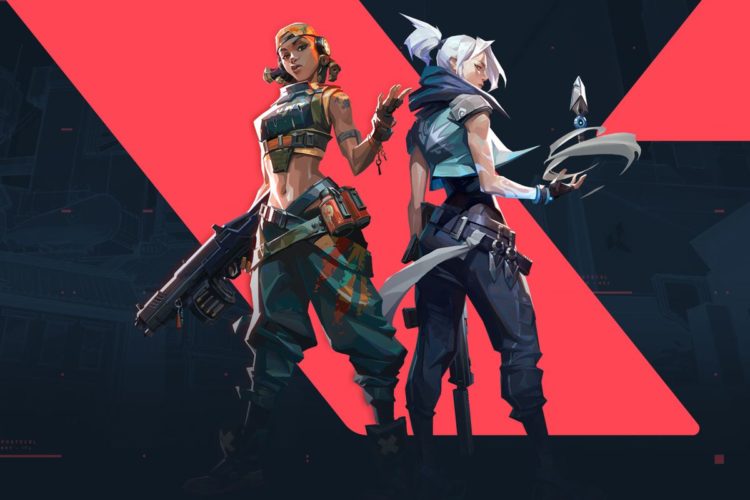 Raze's Blast Pack now has a maximum damage radius of one meter, down from two meters. So, players will need to be more precise to use it effectively. Jett gets a big utility buff with her Cloud Burst duration increasing from four to seven seconds. This buff will make her a much better team player. Jett's Tailwind will now break Cypher's Trapwires, but she will be briefly revealed, a simple buff that fits with the physics of the ability.
Climb into the new map, Ascent
The Valorant launch day patch introduces the fourth map to the game. It's called Ascent and is set in Italy. The map has a large, open middle area that teams can fight over. Securing this area offers you more avenues for attacking Spike (bomb) sites.
Ascent will feature slightly more often than the two older maps for a few days. The Valorant team wants to give players more opportunities to enjoy it. But it also means players will help find issues with the map more quickly.
Last details
Unfortunately, Competitive Mode has been disabled for launch. Riot Games wants to focus on making sure everything is stable before bringing it back online – like it did with the launch of the closed beta. While Competitive is disabled, the Valorant team will be making some changes to it based on feedback from beta players.
Meanwhile, very little was said of the new Spike Rush mode, but we'll experience it for ourselves shortly.
The Valorant launch day patch also added a long list of performance updates, introduced many quality-of-life changes, and fixed a ton of bugs. You can check out all the details in the patch notes on the Valorant website.