Digital Extremes has released a small Warframe teaser on its Twitter feed. It lists two upcoming events, Operation Scarlet Spear and The Deadlock Protocol.
The Sentients are coming
As captioned in the teased image for Operation Scarlet Spear, "the Sentients have breached the Veil Proxima." Sentients in the Warframe universe are an artificial race created by the Orokin, an ancient and extinct civilization known for their technological expertise and advancements. They were originally terraforming machines with the ability to adapt to almost anything. They soon became a threat to their own creators by gaining sentience, hence their name.
This should excite players, as the Sentients were originally mythical beings. Through cinematics and lore, it has come to light that Sentients survived the Old War, but their numbers aren't fully known. They're still a threat and an invasion seems imminent. The Sentients hold significant status and presence, and it could be another prologue story to the New War.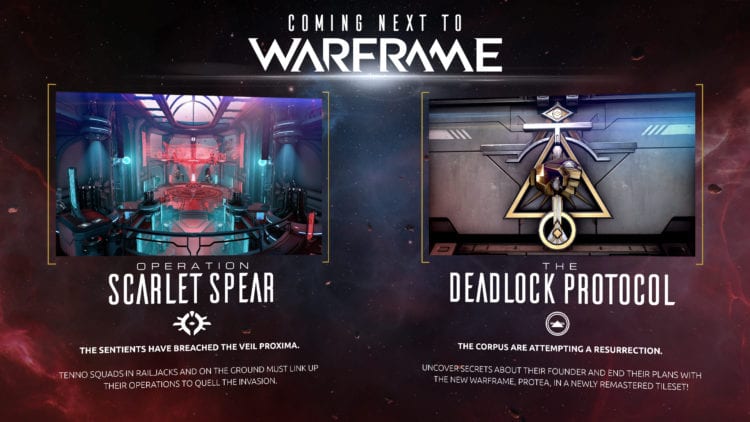 The Deadlock Protocol
For The Deadlock Protocol event, the teaser reads, "The Corpus are attempting a resurrection." The Corpus are a human merchant faction that delves into acquiring and trading ancient Orokin technology and warframes. They're the most technologically advanced race and possibly the most wealthy as well.  It's a good bet that the mentioned resurrection is for the Founder, a figure about whom the teaser promises secrets will be revealed. The Corpus has claimed to be from an Orokin lineage, suggesting the Founder might be Orokin. I'm quite excited to see the origins and lore updates to the Corpus.
Finally, the teaser also mentioned the release of Protea, the upcoming warframe. She has been showcased to be some sort of tech operative warframe with an ability to retrace actions like Tracer from Overwatch. Either way, I look forward to Warframe's future updates and can't wait to try them myself.