The FARA 83 is the latest assault rifle to be added into Call of Duty: Warzone as a part of Season Two. So far, it has been popular in both Verdansk and Rebirth Island. However, some Call of Duty: Warzone players have begun to utilize the FARA 83 in a similar role to a submachine gun. With the right attachments equipped, you can make the FARA 83 powerful at close range.
Warzone FARA 83 class to fit a submachine gun role
Muzzle: Infantry Compensator
Barrel: 13.7" Takedown
Underbarrel: Field Agent Foregrip
Ammunition: STANAG 60 Round
Rear Grip: SASR Jungle Grip
To begin this class set up, equip the 13.7" Take Down Barrel to improve bullet velocity. In addition, you will experience better strafe speed, improving movement when using the FARA 83. The Infantry Compensator Muzzle will better vertical recoil control, therefore improving accuracy when up close and personal with opponents. Pairing this with the Field Agent Foregrip Underbarrel will boost our accuracy even further both vertically and horizontally.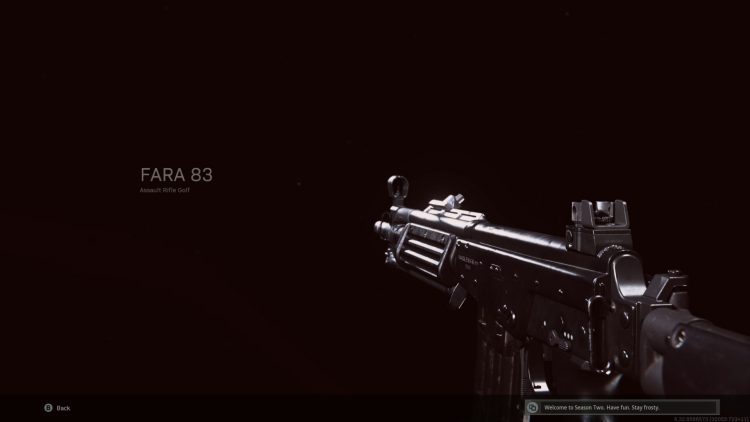 Next, the SASR Jungle Grip will make aim down sight time faster and improve flinch resistance. These are all important features for making the FARA 83 act as a submachine gun. Finally, the STANAG 60 Round magazine will maximize your ammunition capacity which will allow you to take down multiple enemies without needing to reload. Another attachment to consider using is the KGB Pad Stock. You also might consider swapping out the SASR Jungle Grip in favor of a Stock. This will further improve your aim down sight movement speed, aim walking movement speed, and sprint to fire time for extra mobility.
As this Call of Duty: Warzone FARA 83 build is suited for close-quarter combat, you should pair it with a gun suited for long range fights. You may decide to use an assault rifle, tactical rifle, or sniper rifle, for example.