Come spring, players of Elite Dangerous will be able to jump into more planetary exploration that also opens up a brand new space for combat and expeditions. The Elite Dangerous: Odyssey expansion is definitely going to be a substantial one, with developer Frontier Developments doing its best to reimagine the already huge game into something bigger. However, when you are landing on unknown planets and whatnot, it is likely that you will face some resistance in one way or another. Thankfully, Elite Dangerous: Odyssey will always have a weapon ready for you to defend yourself.
In a new Frontier Q&A, the team answered all manners of questions about weapons in Elite Dangerous: Odyssey. More specifically, it was all about infantry weaponry. With Elite Dangerous: Odyssey having a big emphasis on being able to bring the hurt to hostile denizens around the galaxy, having weapons is certainly important. As Frontier explains, players will always have a side arm to help them in combat. You will never be defenseless.
In addition to that piece of important info, the developers also talked more about potential equipment players can get their hands on.
Heavy ordinance
If you find yourself up against vehicles, the side arm is not going to help you much. Instead, you will need to utilize more effective weapons such as rocket launchers and grenades. At launch, these will be the only two explosive weapons available.
Aside from that, you will have access to a variety of weapons. These include pistols, rifles, SMGs, shotguns, and rocket launchers. Frontier will share more about the weapon system at a later date. For some players, the ability to aim down sights will be important. All weapons will have this enabled, with different scopes giving you different magnifications. Weapons in Elite Dangerous: Odyssey can also be upgraded with attachments.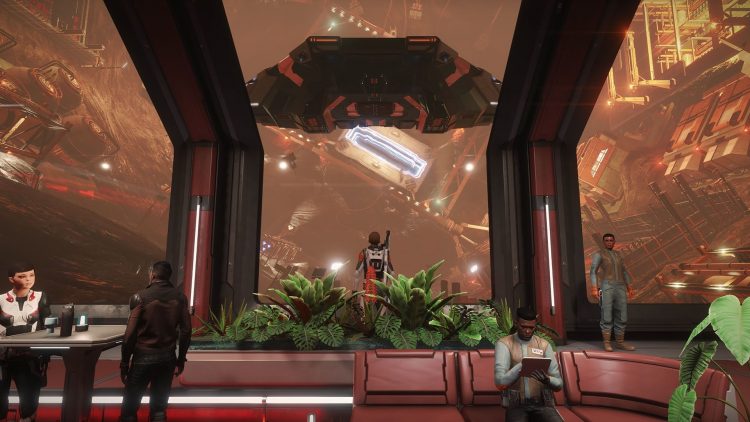 If you find yourself in a situation that calls for close-quarters combat, there will always be melee combat options to depend on. When playing together with others, you can also drop ammo, grenades, and even weapons for each other.
Sounds like space is going to be really noisy when combat kicks off. Look out for yourself when Elite Dangerous: Odyssey arrives later this spring.