'Weird Western' is a unique genre. Stephen King's Dark Tower saga and the recent Westworld TV series are probably the most popular modern examples of the genre, but it has been around for a long time. Pulp writers were incorporating elements of horror, sci-fi, and fantasy in western settings back in the 1920s and 30s. But if you're a fan of the genre and a gamer, your options are limited. Hard West is a turn-based tactical game featuring weird elements, and some might argue that parts of Fallout: New Vegas fit the bill. So what is a gamer who likes their cowboys strange to do? Enter Ritual: Crown of Horns.
Ritual: Crown of Horns bills itself as a top-down witch defense shooter, which immediately tells you a few things about what you might expect. It's a fast-paced action game where players will need to master the combat system to survive. Developed by Draw Distance, Ritual: Crown of Horns is available now.
Ride into the Weird West
In Ritual: Crown of Horns, players will take control of a bounty hunter who met an unlikely end while hunting down a witch. The very witch that you had set out to kill turns out to be your salvation; she brings you back from the grave, and from there the two of you set out to stop the demonic forces that put you there in the first place. From here, you're going to travel across the breadth of the United States as you seek revenge.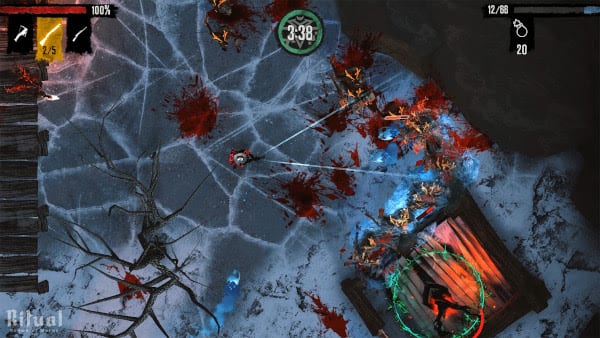 Gunslinger or spellslinger?
No western would be complete without satisfying weapons, and you'll have plenty to choose from, including coach guns, six-shooters, rifles, and others. With the aid of your witch counterpart, you'll be able to utilize spells that can change how you approach a combat situation. It sounds like the mix of spells and weapons will allow for a variety of different playstyles as you set out to bring justice to the Weird West. You can also nab different powerups such as hats and talismans to give you an extra edge.
The gameplay is suitably hectic. A variety of twisted, demonic enemies will swarm you, but you can just spray-and-pray with a multitude of weapons and expect to win. Players will need to think tactically and assess the enemy, find out who needs a bullet first and then engage.
You can pick up a discounted Ritual: Crown of Horns on Steam for $15.99 until November 15.