Nacon and Cyanide have dropped a cinematic trailer for Werewolf: The Apocalypse – Earthblood, their forthcoming World of Darkness action-RPG. Rather than focusing on the vampires like so many other World of Darkness games, this one lets you take control of a furry killing machine instead. Although there's a Wraith game coming too!
Games based on the Werewolf property have been mooted for ages, with both DreamForge and Capcom planning to do bits with the property. Both of those ended up getting cancelled for one reason or another, but Earthblood looks like it may actually happen. Unfortunately, it's by Cyanide, so my hopes aren't exactly high for it being good.
Werewolf: First (Earth)Blood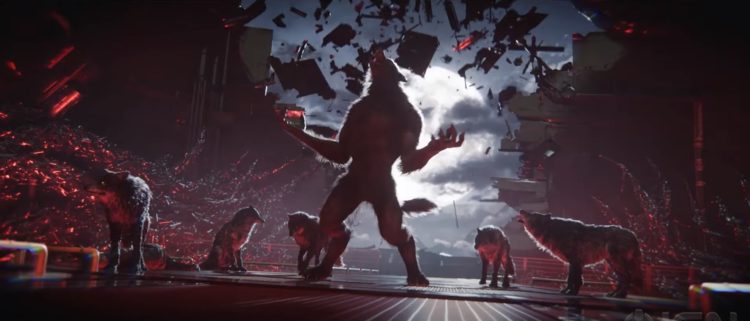 Doubly unfortunately, we don't actually have much information on what it is. We know it's an action-RPG — with an emphasis on "action" — and, well, not much more. Going by the PDXCON reveal last year, we know that you'll play as a werewolf called Cahal who's on a quest for redemption, probably by murdering a lot of corrupt corporate executives and the like.
See, werewolves in the World of Darkness take the "warrior" part of "eco-warrior" very literally. They're protectors of nature, and they don't take kindly to Wyrm-tainted corporations like Pentex sucking the planet dry. To help out with your battle against these threats to the planet, you can shift between multiple forms. Homid (human) form can interact with other humans without suspicion, Lupus (wolf) form can sneak around stealthily, and then there's Crinos. Crinos is a nine-foot tall furry killing machine. Crinos is the form people should be very scared of, especially if they've played Vampire: The Masquerade – Bloodlines and remember that bit where you wind up in werewolf territory.
The World of Darkness itself is effectively our world, but vampires, werewolves, mages, and all sorts of other things that go bump in the night lurk in the shadows. It's a fun setting, though Bloodlines aside, it hasn't provided the best experiences when it's been moved into video games. Earthblood may prove to be the exception, but we'll have to wait to find out.
More on Werewolf: The Apocalypse – Earthblood is due at the Nacon Connect on July 7th. The game itself will be available on the Epic Games Store, presumably later this year.