Publisher Deep Silver and developer 5 Lives Studios are preparing to release the Zelda-esque, survival game Windbound later this month. To give audiences a better idea of what to expect, the team released  21 minutes of Windbound gameplay in a new trailer. The video showcases some of the features and mechanics that are present in the game, as well as early-game areas. The video also features commentary from Mitch Clifford, the co-founder and lead animator at 5 Lives Studios.
The narrative of the game is focused on the playable character named Kara. She is separated from the other warriors of her tribe, and must learn to survive after being shipwrecked. The main objective of the Windbound is to help Kara get back home. Along the way, she will uncover many mysteries and creatures that lie throughout the game.
The world is your oyster
The game is mainly centered around survival, with elements of hunting and exploration, too. You will also find yourself regularly travelling to different islands using the sea crafts you create. As shown in the gameplay video, you can search for resources on the islands. Also, you are able upgrade your tools, weapons and much more. The game is separated into chapters which are symbolized through different towers. In addition, the towers are an important part of the story's progression. Tower keys will direct players towards the next island they should visit.
Another important aspect of the game that is demonstrated in the Windbound gameplay video is the importance of upgrading your boat. In the video, the boat is moving perpendicular to the wind direction. As explained, this means your boat could actually tip over if the sail is not built stable enough.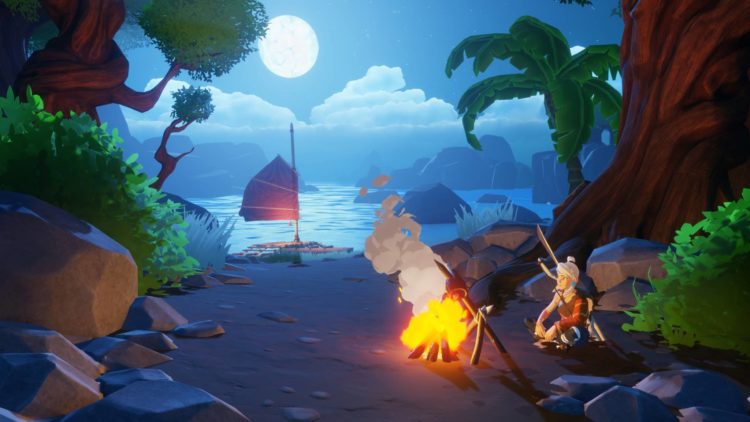 You can explore the mystical Forbidden Islands of Windbound on August 28. It will be available via the Epic Games Store, Steam, and Stadia. Additionally, if you pre-order Windbound, you will earn three items which are ancestral attire, knife, and oar. For more information on Windbound, check out our preview by Andrew Farrell. He jumps straight into the story and talks about knitty gritty details of survival and progression.