It has been 25 years since the original Windjammers made by developer Data East first landed on the beach. The road to Windjammers 2 has been long and arduous, but it appears that the end is finally in sight. This is made even clearer by the fact that Windjammers 2 has a demo available right now on PC via Steam as part of the Steam Game Festival.
Catch some sun
Dubbed the Windjammers 2 Steam Festival Demo, the demo will offer local and online multiplayer so you can toss some discs with a friend on the couch (at a social distance) or online. The demo will only be available until June 22 though, so move quickly. The demo features three playable characters. Wessel from the original game will be available, as well as two brand new characters Sophie De Lys and Max Hurricane. There will also be three arenas available: Beach, Stadium, and Ring.
This long-awaited sequel is being developed by Dotemu, the French developer behind the recently released Streets of Rage 4. The same team was also behind the revival of Wonder Boy with 2017's Wonder Boy: The Dragon's Trap along with their Streets of Rage 4 collaborator Lizardcube. The French team has certainly carved out a successful niche for itself reviving properties long thought dead.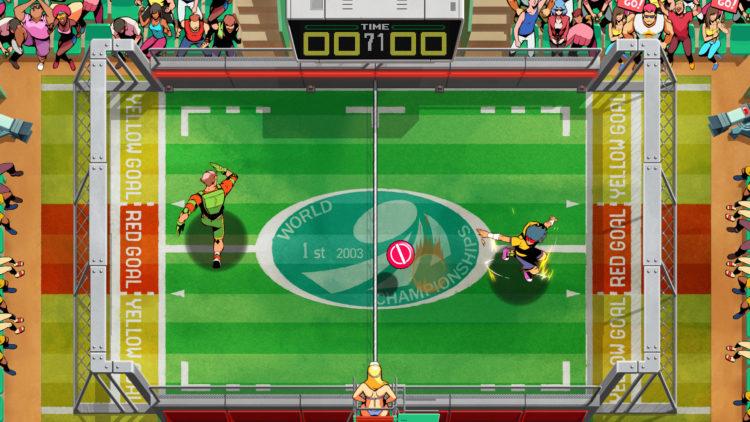 and some discs
Windjammers 2 brings back the retro-future aesthetic of the original with an updated art style and mechanics, but it still maintains the core gameplay of hurling discs back and forth in increasingly ludicrous ways. The original still sees play competitively, especially at larger fighting game tournaments like CEO, where it is a side tournament staple. Hopefully, this new entry will be able to maintain that same competitive fire.
Windjammers 2 does not have a concrete release date but is instead just slated for 2020 as of now. It is currently in development for PC as well as Nintendo Switch and Stadia.