World War Z is a zombie survival game based on the movie and books. You'll travel around the globe as you fight off hordes with the help of your squad. The game's developer, Saber Interactive, has announced a new content map for the coming months. There are content and modes planned for May, June, and July.
Content With Content
Although Justin Timberlake has probably reminded you on social media that it is indeed gonna be May, the month has arrived, and along with it, comes new content for World War Z. The first content drop comes in the form of an additional Tokyo mission. This is the last chapter in the game. However, the content features a new mission within that arc. There is also a new enemy, a zombie that "spits a deadly virus and can resurrect if not properly dispatched."
For the month of June, players will see the difficulty get fairly steep with the difficulty ramping up to six skulls. If you played through the game you'll probably realize that you have your work cut out with the new level challenge. That being said, you'll be rewarded for your efforts. New unique rewards and cosmetic items can be achieved when completing this. There is more to come for World War Z, however, the details were not released at this time.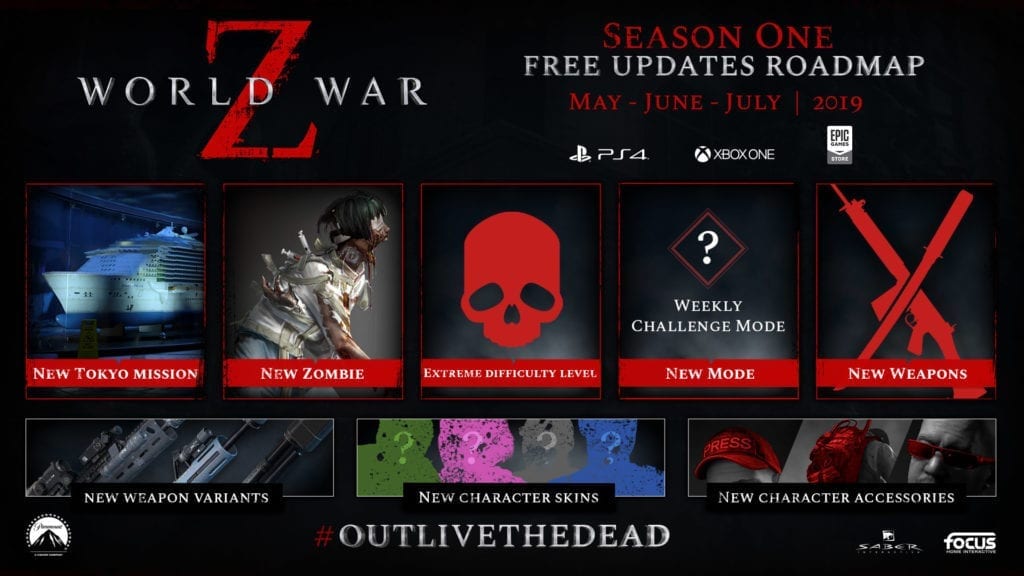 And finally, the month of July will offer a new Weekly Challenge mode. Although the game has a decent size player-base, I would imagine this is an effort to keep those who have busted through the main story of the game and dabbled in the online multiplayer to continue engaging with the game. Much like the other content in the road map, this will also shell out cosmetic rewards and "other goodies."
World War Z's new content map is set to roll out on PC, PlayStation 4, and Xbox One starting this month.
To find out what we thought, check out our review. What are your thoughts on the World War Z content map? Do you plan on playing? Let us know in the comments below!