It's a great day for fans of the explosive Worms Rumble, because a new map has opened up in-game. The map is titled Battlegrounds Bank, and it's loaded with loot. That's not all killer worms can get excited about. Team17 also announced that a global community event, Bazooka Bowl, will kick off in Worms Rumble on February 25 and run until March 1.
For the Worms Rumble Bazooka Bowl, players will need to choose between three teams: Downtown Dragons, Armageddon Heat, and the Golden Donkeys. The team you pick will be who you represent in your matches. You'll get a free outfit and banner in your side's colors to show your support.
The goal of the event is to get as many bazooka kills as possible. Each one you get in a match will go towards your personal and team tally. You can unlock three personal rewards during the Bazooka Bowl. Presumably, this is based on how many bazooka kills you rack up. The items are the Mech Visor face wear, the white Mech Bazooka skin, and the white Mech Suit outfit.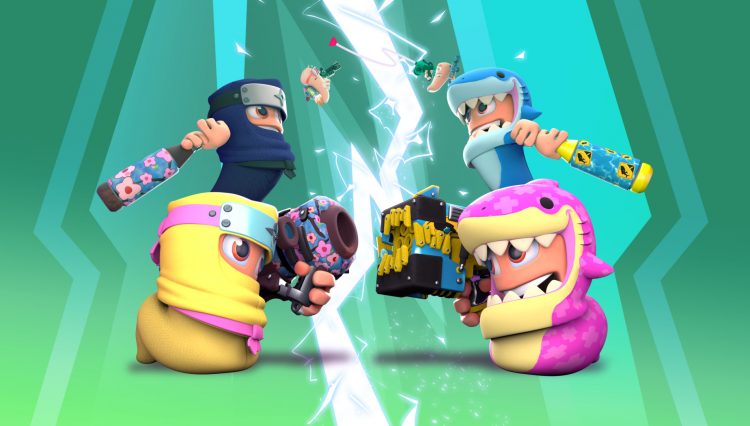 The team that gets the most kills with bazookas by the end of the four-day event will receive the pink Mech Suit outfit, the Mechanized Warfare banner, and the pink Mech Bazooka skin. Second place will get the banner and bazooka skin, while third place will get just the banner.
The new Worms Rumble map is a bank heist
Battleground Bank is already open for business. As long as your business is looting and killing. You can crawl into the arena in Last Worm Standing, Last Squad Standing, and Deathmatch modes. There's also a new 12v12 Team Deathmatch mode available. Check out the Worms Rumble new map trailer to case the joint before you dive in.
Today also marks the beginning of a free weekend for Worms Rumble on Steam. If you've never tried the explosive, real-time Worms shooter, this is the perfect time to crawl in. The free weekend is live now and runs until February 22 at 1 PM ET. If you like what you play, you can pick up the PC version of Worms Rumble for 25% off its regular retail price until the free weekend concludes. If you're still not sure, you can check out our preview.
If you're an existing Worms Rumble player, you can dive into the new map right now. Plus, you will earn double XP and currency over the weekend.