Forget video games for just a second (stay with me here). Wrestling fans all know that, for only one night a year, Smackdown and Monday Night Raw fight it out for brand supremacy during the Survivor Series. Until now, the equally lovable black-and-yellow brand NXT has been left out in the cold. NXT is a bit smaller but has been on the rise both in its talent and spectacle in recent years. So it's sad to see they've never been involved.
That's not the case this year, where finally, for the first time, it's NXT vs WWE…just not in a wrestling ring. Instead, it's all taking place within League of Legends! …Alright, maybe this is a bit out of left field, but it's incredibly exciting all the same.
League Of Legends Is Still Huge
LoL and Riot Games just had their World Championships where they actually debuted a fully digital K-pop group made out of their characters. The game has always been popular, usually topping Twitch charts in terms of consistent viewers. So, obviously, WWE and NXT would use this international hit to have the battle of the century between the two wrestling corporations. Obviously.
What Is UpUpDownDown And The New Day?
UpUpDownDown creator Austin Creed came into the ring the night of November 13 during a promo for the event and laid it all out. For those who don't know, Austin "Xavier Woods" Creed is 1/3 of the NXT group New Day. They are by far some of the most charming and relatable wrestlers in the business. You might remember them for any number of their absurd antics, such as coming into the ring wearing Dragon Ball Z Saiyan Armor, or maybe for their very own cereal, Booty-Os.
Either way, they've made great strides in bringing nerd culture into the limelight and meshing them with wrestling as a whole. UpUpDownDown is Creed's own personal YouTube channel. It's where he does his very best to show his colleagues the world of gaming. It's been a gigantic success, as Creed's channel was only created in 2015 and already has almost 2 million subscribers.
The Showdown Details
Austin announced that the showdown would include four wrestlers and one League of Legends professional on each side. Team NXT will be sporting LoL Pro Tyler1 along with Dakota Kai, Adam Cole, Shayna Baszler, and Johnny Gargano. On Team WWE, there is Imaqtpie, another pro, along with Cesaro, Tyler Breeze, Ruby Riott, and Seth Rollings. Unsurprisingly, this isn't the first time Xavier has used video games as an inter-promotional bridge in a televised event. Previously he put together the event New Day vs The Elite, where the two teams battled it out in Capcom's Street Fighter V at E3.
But the wrestling pros weren't just dropped into Leauge of Legends and told to figure it out. Each captain has had their own training sessions with their team. They introduced them to the over 141 champions in the game as well as the in-depth mechanics. As someone who was essentially addicted to LoL for years, I can attest to how much content that is.
Tyler1 and NXT both have plenty to prove, as Tyler1 lost to Imaqtpie previously. And NXT always wants to get a leg up on their mainstage counterparts. Each side has also done some training in their own time. Both Imaqtpie and Tyler1 worked with some of their teammates during their individual streams. Cesaro (who has played the game previously) actually accidentally ruined NXT's stream. He just happened to end up in one of their games and won against them.
It's Been A Long Time Coming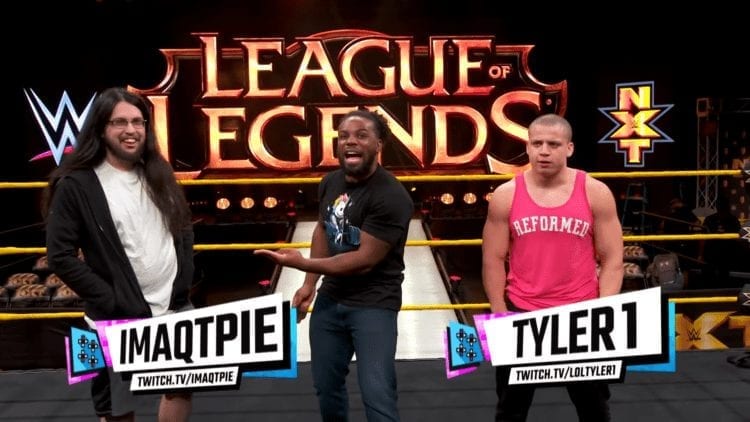 This showdown has actually been teased for about a month now, as the LoL pros have a long-running rivalry. Back in late October, Creed announced that UpUpDownDown would be the stage where the two gaming elites could duke it out once again. The actual event has already been taped and is technically over, but it's not yet released. That's because Creed's plan for their LoL battle is no longer just an event for the UUDD channel. It is now a fully fledged event that'll air via the WWE Network on the morning of Saturday, November 17.
There is usually a lot of overlap between fans of wrestling and fans of video games or pop culture media. Wrestlers have capitalized on this in recent years, and I for one am in love with it. It's worked both ways and created new fans of gaming out of wrestling fans and vice versa.
Personally, I've always loved wrestling but have never followed it consistently. However, events like this may help to change my mind. Make sure to tune in on Saturday to see how it all plays out. And if you want to see everything leading up to the actual event, the training sessions and stage promo are below.
Also make sure to check out the UpUpDownDown Channel, Imaqtpie and Tyler1's Twitch pages, and any other wrestlers who you think might be streaming (personally I'm a huge fan of NXT's Brennan Williams streams).
Below are all the videos leading up to the event.