Microsoft has announced that a more complete version of Xbox Game Pass has been "built for PC". This will allow Windows 10 owners to gain access to over 100+ PC games "from over 75 content partners". More details will be provided at Microsoft's E3 briefing on June 9, but a few key details have already been revealed.
Bright Horizons
The company admits that it has "not always lived up to [its] aspiration of keeping gamers at the center of everything [it does] when it comes to the experience they've had on Windows". As a result, Microsoft is building the new Xbox Game Pass for PC as a way to show that it's adamant with "[contributing to the thriving PC gaming ecosystem]".
Just like Xbox Game Pass on console, the new PC service will have a rotating selection of 100+ games that will be updated every month. Subscribers will also be able to receive discounts in the Microsoft Store: 20% off of Game Pass titles and 10% off their related DLC/add-on content. Speaking of storefronts, Microsoft has also confirmed that it will add "more than 20 Xbox Game Studios titles [to] Steam". The company has also stated that it is aware that "there are other stores on PC" and has confirmed it is "working to enable more choice in which store you can find our Xbox Game Studios titles in the future". While no specific name was given, it wouldn't be surprising if Microsoft is subtly hinting at possibly also looking at the Epic Games Store, as we all know how rapidly it's expanding.
The Xbox Game Bar on Windows 10 was recently upgraded to include features such as "voice and text chat, LFG, friends list and cross-play across PC and console". More updates are planned for the future.
Xbox Game Pass is one of Microsoft's fairly new services. Having mainly been targetted at Xbox One owners, it allows players to gain access to over 100+ curated titles for one flat subscription fee. This business model has been working very well, especially due to first-party titles also being a part of the service in addition to the constant promos which discount the already low $10 per month price-tag. In the near future, Microsoft will be taking this very same concept and expanding it on PC.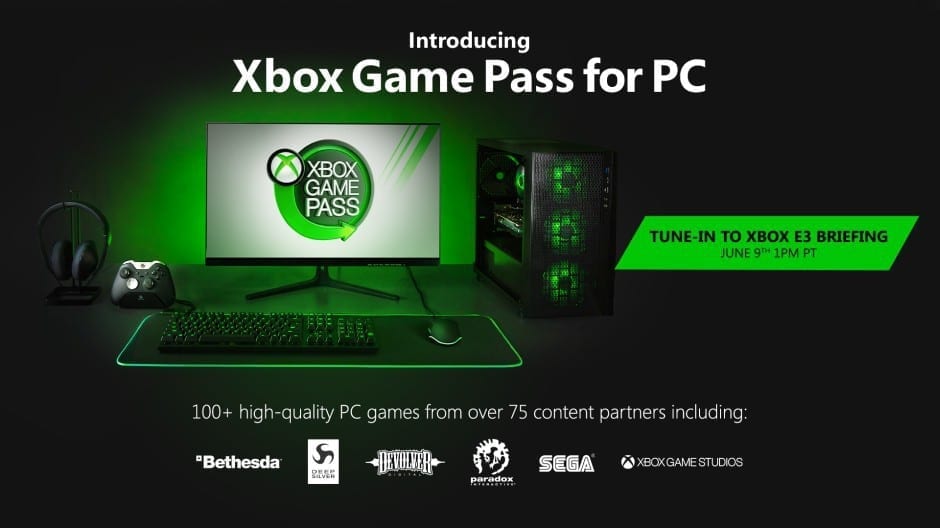 Playing nice
Another advancement Microsoft is making is adding support for Win32 games. This is basically the standard format for PC games, though Microsoft has been trying to shift away from it in favor of the UWP format that games from the Microsoft Store use. Even Microsoft admits that Win32 offers more "customization and control".
Just the tip of the iceberg
As mentioned in the beginning, Microsoft has confirmed that more details about the expanded Game Pass for Windows will be revealed during its E3 Media Briefing. That will take place on Sunday, June 9, 2019, at 1 PM (Pacific). It wouldn't be surprising if the line-up of titles is revealed at that time.
For those that may be confused, Xbox Game Pass does already exist on Windows 10, however, it's only supported a very small selection of games; specifically, those that are also a part of the Xbox Play Anywhere service (e.g. Forza Horizon 4). So, this expansion will encompass a whole new library of games. It hasn't been outright said if the new Game Pass for Windows 10 will function independently of the existing service on Xbox One. This means it's still up in the air if current subscribers will have to re-subscribe for the new service whenever it launches.