Don't go expecting wonders from The Yakuza Remastered Collection. This isn't a Kiwami-style remake. It's certainly not a bare-bones port — the fact that it runs at high resolutions and 60 fps is enough to avoid that one — but this is very much a remaster, not a remake, and that shows.
Still, it's a perfectly solid way to play through Yakuza 3, 4, and 5. It's not without its issues (the primary one being that it occasionally feels so dated that the design documents may have been written on papyrus). But playing through these Yakuza games is a thing you should absolutely do if you want to finish Kiryu's story and get yourself ready for Yakuza 6 in March.
First things first, let's look at the system specs. One thing to note is that the three games actually have different requirements, though not vastly so. The following are all based on the listed Steam requirements, so…
System Specifications
Minimum Specs
CPU: Intel Core i5-3470 or AMD FX-6300 (Yakuza 3 and 4)
Intel Core i3-2100 or AMD F-4350 (Yakuza 5)
RAM: 4 GB RAM
GPU: 1GB NVIDIA GeForce GTS 450 or AMD Radeon HD 6870 (Yakuza 3)
AMD Radeon HD 6670 (Yakuza 4)
AMD Radeon HD 5600 (Yakuza 5)
Recommended Specs
CPU: Intel i7-3770 or AMD FX-8350
RAM: 4 GB RAM
GPU: NVIDIA GeForce GTX 660 / AMD Radeon HD 7870 (Yakuza 3)
NVIDIA GeForce GTX 760 or AMD Radeon HD 7950 (Yakuza 4)
NVIDIA GeForce GTX 560 / AMD Radeon HD 6950 (Yakuza 5)
Reviewer's Specs
CPU: AMD Ryzen 5 3600
RAM: 16 GB RAM
GPU: 8 GB NVIDIA GeForce RTX 2070 Super
So, first: they're not the most intense games in the world. And second, if those specs are accurate, then Yakuza 5 remastered is the least intensive of the lot. Either way, if those requirements are accurate then you should be more than fine if you have a computer from anytime within about the last six years — assuming you're not trying to run it at 4K resolution, at least.
All three games are capped at 60 fps, and I had no difficulty hitting that with one exception. That exception shouldn't surprise anyone. We'll get to that.
The Options
The options are nearly identical across all three games. The only major difference that I can see is that Yakuza 5 remastered actually has a Dynamic Resolution setting, which will automatically adjust the render scale to hit either 30 or 60 fps depending on the cap you've set. That was the only different graphical option I could see, so you're getting the graphics settings from Yakuza 3 remastered:
Most of that should be pretty self-explanatory. The "tattoo letterbox artwork" is, I suspect, just the game adding pretty art to the letterboxes if you're playing in a resolution with an aspect ratio other than 16:9. That aside, it's the usual basics. Still, I'm pleased to see Borderless Windowed mode. And yes, the fps cap only contains the options of 30, 60, or Auto.
I mentioned that there was one time I had difficulty hitting 60 fps, and there's no prize for guessing that happened when I bumped the render scale up to 200%. Being that I play at 2560×1440, that would mean the game was being rendered at double… which is a ways above most 4K resolutions. I can't really fault Yakuza for slowing things down when I'm effectively trying to run it at 5120×2880, and am faintly amazed that it only dropped to about 50 fps. The rest of the time my framerate was at an easy and constant 60 fps.
We should also take a look at the controls. All three games open with the obligatory "real yakuza use a gamepad" warning, and as usual this is not a lie. (I mean, okay, I don't know what real yakuza use. But the player should use a gamepad.) Bizarrely, though, this actually controls a bit better on mouse/keyboard than Like a Dragon did. The non-gamepad controls aren't good per se, but they make a degree of sense: the mouse buttons attack, 1-3 pull out weapons, space is dodge, etc. It's just that you probably don't really want to play this sort of brawler without a gamepad.
Comparisons
And now, let's get to the interesting stuff: how it looks. And how hilarious it looks when we drop the graphics.
I'm going to be honest: these three games have very mixed visuals. The pre-recorded cutscenes look pretty meh, on account of being recorded at what I suspect is 720p. Upscaling these to 1080p or higher does them no favors, and makes them look horrendously pixelated.
On the other hand, the in-game cutscenes look great. Most of the character models and textures in these segments are of high quality. There's still some iffiness around them — any depth-of-field effects are horribly blurry, and there's only so much that can be done with the lower-polygon models. But these generally hold up well.
Then we get to the general gameplay, which is a mix. Most random bystanders and thugs haven't had nearly as much attention paid to them, and look outright plastic, especially without the PS3's ridiculous Vaseline-smearing effects to hide the aliasing. Yakuza 5 definitely looks the best, with environmental textures generally appearing all right even when the quality is dropped, but there's plenty of aliasing on display. While the following comparison shots are from all three games, I've included some more from Yakuza 5 simply because it's the one which still has some decently high-res textures even when set to Low, and they also highlight a few other bits and pieces. Check out the office shots in particular to see some of the more "hmm" graphics, but then compare to how decent the streets look.
It's also worth noting that some of the interface text and UI elements haven't really been redone for higher resolutions either. Text boxes are massive, and a lot of the text (especially in karaoke) seems to have just been directly upscaled rather than re-rendered in the same font at a higher resolution. You can also see this in the Yakuza 5 save point icon above.
Nonetheless, this is pretty much what I expected. About the only area that I'm a little surprised by is the gargantuan UI, but it doesn't do much to hinder play; it just makes the games "feel" old. About the only thing I'll note is that ramping up the render scale didn't make any obvious differences, to the extent that I took screenshots with it pushed up to 200%, and I honestly can't tell which is which.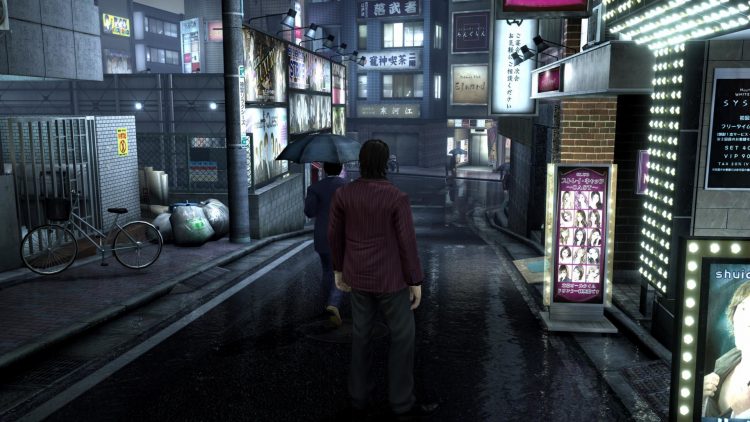 As far as remasters go, The Yakuza Remastered Collection is honestly solid. No, it's not a full and flashy remake like the Kiwami games, but we knew that already. As long as you bear that in mind and can put up with a few iffy graphical moments, I daresay you'll have few issues enjoying this trio of games.