Rainbow Six Siege continues to grow and grow. It launched back in 2015 to a lukewarm response, but through a series of updates, operations, and tweaks made by Ubisoft, it has become one of the most successful multiplayer shooters on the market. If you've never played Rainbow Six Siege before but have wanted to give it a whirl, then you're in luck. There will be a free weekend starting on March 5.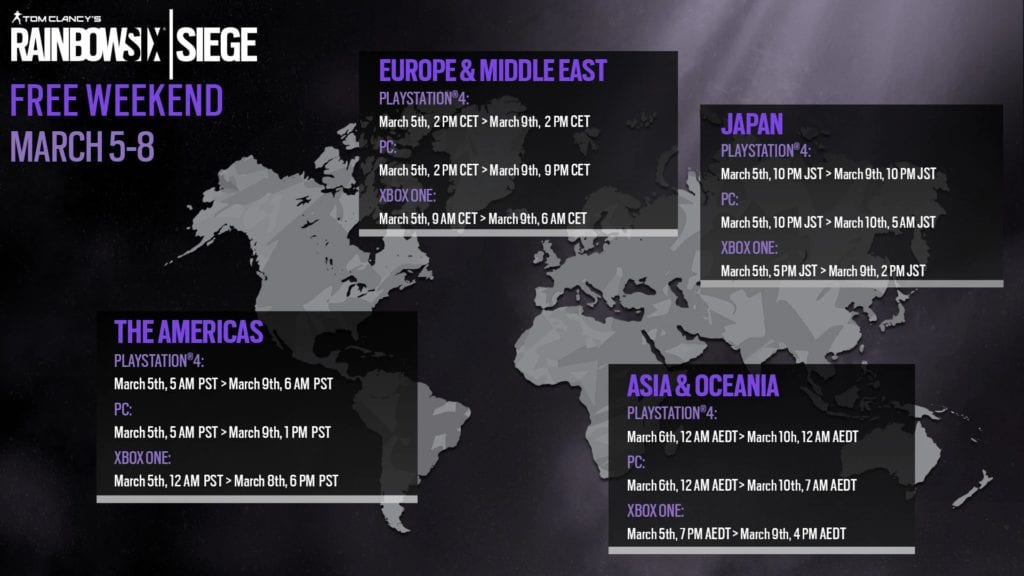 Play for free
Rainbow Six Siege will be free to play from March 5 at 8:00 a.m. ET to March 9 at 9:00 a.m. ET for US players. You can also check out the handy infographic Ubisoft made above. The times don't appear to translate directly across timezones, so make sure to double-check your own region.
Players will have full access to the game, including all maps and modes. However, keep in mind that you must unlock operators through gameplay or by purchasing the Season Pass. Still, when starting out, you'll be able to choose from a few operators to play. Check out Ubisoft's guide to Rainbow Six Siege video if you want to know more about the game. If that still doesn't convince you, you can find plenty of footage of streamers playing the tactical FPS.
Rainbow Six Siege Year 5
Rainbow Six Siege is headed into Year 5, which will see new operators, levels, and seasons arrive at regular intervals. The new year most likely won't arrive before the free-to-play weekend starts, but if you try it out, it should give you an idea of whether or not the game is for you.
Additionally, the first season, Operation Void Edge, should release alongside Year 5. Operation Void Edge will feature two new operators: Oryx, a defender who can run through walls, and Iana, an attacker who can use a hologram to distract enemies and scout the map. Geez, we've come pretty far from the days when a special ability was just a sledgehammer, haven't we?
The Rainbow Six Siege Deluxe Edition is also on sale on Steam for $9.89.